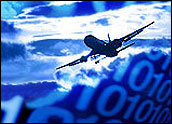 For the second time this month, Travelocity.com (Nasdaq: TVLY), Yahoo! (Nasdaq: YHOO) and American Airlines (NYSE: AMR) launched a one-day online airfare sale Thursday, a move likely to trigger another short-term Internet price battle.
The sale, announced at the stroke of midnight by the three participants, came with no advance warning or promotions.
A similar promotional tactic was used August 8th, leading to record-setting ticket sales on Yahoo! Travel and Travelocity and prompting several competing airlines to discount their tickets short-term as well.
Analysts say that unannounced one-day ticket discounts are common in the airline industry, but that American became the first to confine the promotion to the Internet.
The cheap fares might also be an indication of how far business travel has slowed in a slackening economy. Already this summer, Southwest Airlines, Northwest Airlines, Delta and America West have announced deep discounts in an attempt to fill seats left empty by cancelled business trips.
First Time a Charm
Travelocity and Yahoo! both reported their busiest ticket sales days ever during the first promotion.
"The first one-day fare sale with American Airlines blew away expectations," Yahoo! media group vice president and general manager Matt Rightmire said.
Rightmire said Yahoo's role in the campaign is to expose millions of Internet users to the fare sale at its main portal.
"This type of promotion illustrates the success of the Yahoo!-Travelocity collaboration," he said.
Cheap Getaways
American said that round-trip airfares as low as US$57 would be offered, with discounts on most domestic flights. The sale covered travel taken before December 13th. For example, flights from Los Angeles to New York were offered on Travelocity at $287.
While Travelocity and Yahoo! led the promotional blitz for the American sale, the same fares were available by mid-morning on Orbitz.
Other Battlefields
While price battles are likely to flare up from time to time, analysts have predicted that the online travel war will be won on customer service.
With a nod to that reality, Travelocity unveiled a new concierge service designed to give it a boost on the customer service front as well.
Travelocity said its new service will enable travelers to buy theater tickets, reserve tee times and make restaurant reservations at the same time they book their travel.
"We're focused on how Travelocity.com can help our members in every conceivable way to make their trips better," Travelocity senior vice president of product marketing Peter Cardell said.