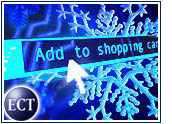 Despite the slowdown in the global economy, online retailers worldwide are expected to rack up US$25.3 billion in sales this holiday season — marking a 39 percent spike over last year's figures — according to a new study released Monday by GartnerG2, aresearch unit of Gartner (NYSE: IT and ITB).
The research firm also predicts that the fallout from the September 11th attacks on the U.S. will only have a negligible impact on planned spending by U.S. consumers, with domestic holiday sales via the Web estimated to climb 30 percent from 2000 to $11.86 billion. Repeat buyers will help to drive much of the growth.
"The increase in online holiday shopping sales will be driven by increasesin online users, buyers, and most importantly, the experience level ofonline buyers, which our research indicates is the single most importantpredictor of online spending," said GartnerG2 senior analyst Mike Cruz.
Four Out of Five Shoppers …
As part of its two-week survey of nearly 16,500 American consumers completedearlier this month, GartnerG2 found that, of those who made onlinepurchases last year, over 80 percent were inclined to shop via the Internet at the same rate in the coming months.
Over 13 percent of online shoppers reported that they will likely spend less online this holiday season, and approximately 6 percent said they intend to spend more.
As of mid-2001, GartnerG2 said more than 71 million U.S. adults had made an online purchase within a three-month period, a 23 percent increase from the previous year.
More Satisfaction
Because many Web sites have increased the functionality andease of use on their sites, the study said, consumers are returning to buy more online.
"In 1999, many consumers were disappointed with the operational and customer service performance of online vendors," said GartnerG2 research directorDavid Schehr. "The result was that over half of those who bought gifts online in 1999 stayed away from holiday buying online in 2000."
However, e-tailers got their act together in 2000 and, as a result, morethan three-quarters of those surveyed by GartnerG2 reported that they werevery satisfied with their buying experience.
"This means there will be less attrition from those who bought online lastyear, and those returning this year are likely to increase their spendinglevels," said Schehr.
Around the World
While North American e-tailers continue to lead the pack in terms of onlinesales, the report concluded that other regions are displaying strongergrowth rates. According to GartnerG2, roughly 53 percent of holiday spendingover the Internet, accounting for $13.4 billion, will be made outside NorthAmerica, compared to 50 percent last year.
The study found that the jump in Web users worldwide has mirrored the number of new retailers charging into the online arena. For instance, GartnerG2 said there has been a marked increase in European brick-and-click marketers, with many hoping to improve their proposition and receipts through online holiday sales.
"In Europe, e-tailers continue to improve their Web site functionality byoffering stock checking, order tracking and keeping their customers informedby e-mail," said GartnerG2 European business analyst Gill Mander.
As a result of these beefed-up offerings, the study projects Europeanconsumers will spend $8.58 billion online in the next three months, almost40 percent more than the $6.15 billion in transactions completed during thesame period last year.
Asia Ascends
Echoing the moves of their European counterparts, local retailers in theAsia/Pacific market are starting to develop multichannel sales and marketingmodels, including some direct selling of products and services on theInternet.
Among the strongest online vending adopters in the area, said GartnerG2, are Australia, New Zealand, Hong Kong, Singapore, South Korea and Taiwan.
The study said retail banks, card companies and domestic consumer portalsare helping to drive the region's growth by actively promoting and fosteringonline buying through site certification and extended customer loyaltyprograms.
Moreover, many consumers are drawn to online shopping by the wideravailability of specialty items on the Web that are in low supply in thebuyers' local markets.
Christmas Cheer
"The fourth quarter has also increasingly become a holiday shopping seasonin Asia/Pacific," said GartnerG2 Asia/Pacific research director LaneLeskela. "Christmas has penetrated the local culture of many non-Christiansocieties in the region as a family and friends gift-giving celebration."
GartnerG2 estimates that holiday sales in the region will climb over 53percent from last year to $2.46 billion. Japan will likely display the strongest growth rate of any other country, according to GartnerG2, with spending there mushrooming 68 percent to $1.4 billion.