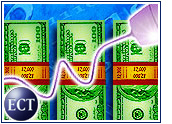 Surging apparel sales will help fuel a 43 percent rise in online spending this holiday season, Web measurement firm Nielsen//NetRatings (Nasdaq: NTRT) said Monday.
Nielsen//NetRatings predicted that US$10 billion will be spent online during the last eight weeks of the year. Clothing will top all other sectors with nearly $2.5 billion in sales, the firm said.
"The apparel category has ranked consistently as one of the top revenue-generating sectors in e-commerce," said Sean Kaldor, vice president of analytical research at the New York City-based research firm.
Two Reasons
The rise of online clothing sales is due to two factors, said Kaldor. First, more top offline retailers have taken steps to convert catalog customers into Web buyers.
At the same time, "many online shoppers have grown more comfortable with buying clothing online without touching or trying on the garment," Kaldor added.
Dueling Estimates
The Nielsen forecast is largely in line with one released recently by Forrester Research estimating an $11 billion shopping season, or about a 10 percent increase over last year. While the Forrester outlook includes online travel spending, Nielsen does not include travel in its forecast.
While both forecasts call for respectable growth for e-commerce, both also signal the end of the triple-digit expansion the industry enjoyed for several years.
According to Nielsen, books, music and video will be the second-largest sector after clothing, with $1.7 billion spent, followed by auctions at $1.3 billion, toys at around $1 billion, and computer hardware at around $900 million.
Toy Story
Kaldor said that the toys sector has performed well despite the closing of several high-profile pure-play sites, including eToys, and a near-disastrous holiday season in 1999, when shipping problems caused scores of Toysrus.com shoppers not to receive orders on time.
The troubles led to a spate of lawsuits and, eventually, government-imposed fines for a handful of e-tail sites.
"Partnerships like Toys 'R' Us and Amazon have helped the sector succeed in attracting holiday shoppers and turning eyeballs into dollars," Kaldor said.
Broader Shopping Base
Nielsen predicts a surge of new shoppers coming to the Web this holiday season as well. The forecast calls for about 106 million people to shop online in December, a 27 percent jump over the 85 million who bought something on the Web during the same month last year.
"This signals a solid outlook for e-tailers who will benefit from an even larger group of shoppers," Kaldor said. "With more people shopping and buying online compared to last year, e-commerce activity is set to post respectable year-over-year growth, despite the effects of the economic slowdown and recent national events."
The Nielsen//NetRatings forecast is based on the eCommercePulse index the firm runs along with Harris Interactive, which regularly surveys a sample of about 35,000 Internet users and measures spending in 13 categories, including health and beauty, home and garden and electronics.