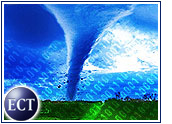 In the first few weeks after the terrorist attacks on the United States, the dot-com world scratched its collective head, wondering if the economy would ever stabilize.
Some online merchants have passed that phase and are now focusing on how to survive until they see daylight again.
There has been no typhoon of bankruptcy filings, but there have been scattered showers of Chapter 11 here and there. Since September 11th, those that have filed bankruptcy and those that are teetering on the edge of filing have found themselves in the headlines.
The job among many tech and e-commerce companies right now is to reassure investors that they are solvent, and that the New Economy is not destined to be a sacrificial lamb of the Old Economy.
Lost Excitement
Excite@Home, for example, has filed for Chapter 11, opening the door for AT&T (NYSE: T) to acquire its broadband services. By filing, Excite@Home is able to retain the value of its assets while the sale to AT&T is under approval.
At the same time, Excite@Home plans to reduce and streamline its media services.
It all adds up to an obvious capital crisis for the company, and even if it did not begin on September 11th, Excite@Home most likely found the subsequent economic downturn insurmountable.
Rock This Way
Almost one month to the day after the terrorist attacks, Netcentives, a company that provides personalized e-mail, rewards and recognition solutions, filed for Chapter 11 bankruptcy.
Again, the company was already in dire straits, having announced earlier this year that it would divest certain assets to "prioritize liabilities and preserve cash flow for creditors, and potentially, shareholders."
Translation: the bill collectors are knocking and Netcentives ain't rocking.
Will the company survive? Maybe. Would this reorganization have been necessary if there had been no terrorist attacks? Maybe not.
Heads Up
The most recent bankruptcy announcement among Internet-related businesses comes from Ardent Communications, an Arlington, Virginia-based broadband provider.
Ardent was also in trouble before September 11th, having reported growing losses, staff reductions and steadily increasing liabilities.
Just one day before filing for Chapter 11, Ardent issued a press release touting its "growth and success this year," and announcing the signing of its 20,000th customer.
Soothing Investors
So how will the remaining tech companies reassure their financial backers?
It won't be easy, particularly for companies dependent on venture capital funding. Even those venture capital firms that once went way out on a limb, nurturing fledgling entrepreneurs who appeared to have a fresh idea, are now recoiling.
Since the attacks, VC firms are increasingly focused on the basics. They want to know if their charges have a consumer base and if the customers are spending money. And, if sales are flat, the investors want to know how the companies are going to get things moving again.
E-tailers Survive
Amid all the doom and gloom, and even as tech companies struggle for footing, e-tailers are hanging in there.
A quick review of BankruptcyData.com, a Web site that lists and details bankruptcies in the U.S., reveals no filings from e-tailers since the attacks.
That probably has much to do with the fact that many e-tailers had already experienced cash crises, downsizing and alterations in their business models before September 11th. In an odd way, some of them were already prepared for an economic downturn, having gone through the belt tightening in months past.
That does not mean all e-tailers will weather this economic storm, but it does put many of them in an enviable position of being ready to fight it.
On the Go
But if all the belt tightening that can be done has occurred already, what next?
Industry insiders say to look for mergers and consolidations. And even then, only time will tell how these unions will play out.
If the economic pendulum swings back in time for consumerism to save the day, we'll all simply wipe our brow and move on. Dodging bullets is a big part of e-commerce anyway.
Usually at this time of the year, e-tailers look to the holidays to pump up the economic volume, but that may not be the case this year. This is a moment for the toughest e-tailers to get going and for the weak to get out of the way.
What do you think? Let's talk about it.
---
Note:
The opinions expressed by our columnists are their own and do not necessarily reflect the views of the E-Commerce Times or its management.
---