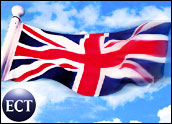 UK businesses racked up roughly US$82.7 billion in online sales last year, according to data released Monday by the British government's Office of National Statistics (ONS), accounting for 2 percent of total sales in the sectors the agency examined.
Although the ratio of transactions conducted over the Internet compared to overall sales might seem low, the figures assembled by the ONS mirror those collected by other European governments, as well as U.S. agencies.
For example, U.S. Department of Commerce data showed that in the second quarter of 2001, online sales accounted for less than 1 percent of all domestic retail activity.
About 40 percent of those surveyed by the ONS cited the expense of developing systems, and uncertainties with contracts, as the primary stumbling blocks to stepping up their e-commerce efforts. Just 600 firms in the UK conduct more than half of their activity over the Internet, the ONS said.
Regional Differences
The ONS survey also revealed broad variations in e-commerce implementation across geographical areas and individual business sectors.
Companies headquartered in London and the Southeast region of the UK made over $35 billion in combined online sales, "considerably" outpacing Internet sales in other regions, the ONS said.
The agency said the large gap can be attributed to the fact that most financial organizations — which have drummed up $64 billion in online sales, representing 77 percent of total Internet revenue — are based in the capital city or in the Southeast.
Purchase, Perchance
UK businesses bought about $28.6 billion in goods and services over the Internet, the ONS said. Online purchasing trends also had a similar geographical breakdown, with London-based companies spending over $7 billion.
By comparison, regions such as the Northeast, Wales, Northern Ireland and East Midlands spent less than $1.5 billion over the Internet.
Overall, half of UK businesses have an operational Web site, ranging from 38 percent of those in Northern Ireland to 58 percent in the Southeast.
Getting Connected
The ONS also found that Internet access rates among UK businesses differ based on regional boundaries. As a whole, 63 percent of British firms are already online, but once again, the Southeast leads the way, with 70 percent of its firms securing online access.
About 8 percent of UK firms currently use a broadband connection to the Internet.
To compile its data, the ONS surveyed roughly 9,000 businesses to measure the value of e-commerce as a part of the overall UK economy. The agency releases data on economic trends on a quarterly basis.