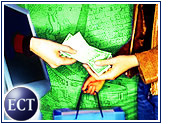 U.S. e-commerce sales in the second quarter of 2001 dropped 1.8 percent from the previous quarter, the Census Bureau of the U.S. Department of Commerce announced Thursday.
Online sales for Q2, not adjusted for seasonal, holiday or trading-day differences, were US$7.458 billion — 0.9 percent of total retail sales. In contrast, overall retail sales actually grew 10.8 percent during the quarter, the report said.
However, not all news from the online sector is discouraging. Year-over-year e-commerce sales actually grew 24.7 percent, according to the Commerce Department.
Additionally, the latest "State of Online Retailing" report, issued Wednesday by Shop.org and the Boston Consulting Group (BCG), found that per-customer acquisition costs for e-tailers continue to drop, falling from $18 in Q1 to $14 in Q2.
The Commerce Department said that overall, consumer retail spending grew at its slowest pace in nine months. However, analysts disagree about the extent to which larger economic trends directly impact e-tailers.
Pick A Side
"In the early days of online retail, seasonality didn't even matter because growth rates were so steep," BCG e-commerce manager James Vogtle told the E-Commerce Times. "I think at this point, the online channel is a significant portion of retail that will be affected by general retail trends."
Others argue that because online retail is in the early growth stage, there is still plenty of room to grow significantly, even if retail as a whole does not grow at all.
However, Vogtle said, when you look at the biggest online categories — such as travel, books and computer hardware — you start to see a different picture.
"Those categories tend to be more discretionary, so they may be more impacted by the downturn of the economy, as opposed to apparel and groceries, which are two of the largest categories offline," said Vogtle.
Choosing Profits Over Growth
According to Vogtle, there is another important factor to consider when looking at the latest sales numbers. As e-tailers continue focusing on profitability, they typically experience higher margins but slower growth.
In fact, though per-customer acquisition spending is down, conversion rates have dropped as well, from 2.3 percent in Q1 to 2.2 percent in Q2, according to the Shop.org/BCG report.
"Our hypothesis is that as retailers are upping their strategies to bring higher profits, they are raising prices or trimming back on the features and service levels they were providing in the past," Vogtle said.
Getting Direct
One of the fundamental drivers behind the lower acquisition costs remains the switch from mass marketing to direct or targeted marketing efforts.
According to Shop.org/BCG, 35 percent of marketing budgets in Q2 2001 were spent on proprietary, targeted media (such as e-mail, catalogs and direct mail), up from 21 percent in 2000.
Portal advertising remains the mass marketing channel of choice for many e-tailers, accounting for 23 percent of marketing budgets, the Shop.org/BCG report said.
"We expected awhile ago that portals would become less important as consumers became more familiar with Web sites, but we haven't seen that happen," said Vogtle. "At this point, [portal advertising] is unlikely to increase, but it's unclear whether it will stay steady or decrease."