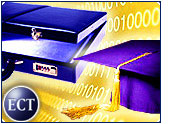 The back-to-school shopping season might not be the biggest quake on the e-commerce Richter scale — holiday gift-giving tends to rock the e-tail world more.
Even so, the return to the classroom provides a welcome excuse for e-tailers to convince consumers to shake off the summer doldrums and start spending again.
"In terms of traffic to e-commerce sites, back-to-school isn't in the top tier, but it does bring an increase," NetRatings e-commerce analyst Kim Pillon told the E-Commerce Times.
Last year, Forrester Research credited back-to-school shopping with lifting online sales during the month of August, as clothing and footwear sales jumped enough to offset slowdowns in outdoor furniture and other seasonal items.
This year, e-tailers have put themselves in position to capture even more of the back-to-school juggernaut.
Willing Students
To get the fall season off to a strong start, Half.com, eBay (Nasdaq: EBAY), Amazon.com (Nasdaq: AMZN), Office Depot (NYSE: ODP) and Yahoo! (Nasdaq: YHOO) have all launched promotions or special sections aimed at luring back-to-school shoppers to the Web.
A recent report on e-commerce sales from Forrester shows that back-to-school shopping may have started as early as July. Sales in July were nearly US$4 billion, rising 25 percent from a lackluster June.
In fact, Pillon said that weekly data show that back-to-school shoppers began affecting Internet traffic as well in late July.
Old School
Some of the largest benefactors have been apparel sites. For instance, Oldnavy.com saw a 49 percent increase in traffic during August 2000. Already, weekly tracking for this year shows traffic up as much as 60 percent to the site.
However, the uptick might not last long.
"It's a pretty narrow window for e-tailers," Pillon said. "The spike in traffic starts around the last week of July and by mid-September, we see another lull."
Traffic Jam
While traffic might jump at sites like Oldnavy.com, however, that jump does not translate directly into sales. Much of that traffic, Pillon said, might be teenagers checking out new clothing styles, when in the end, parents do most of the buying.
Teens also tend to make their own purchases at the local mall. According to Jupiter Media Metrix, while teen spending online is expected to grow to as much as US$4.9 billion over the next three years, teen Web surfing may influence up to $20 billion in real-world spending.
Cutting Class
Reflecting a quieter overall economy, many of the online back-to-school promotions focus on discounts and cost savings.
Both eBay and its fixed-price subsidiary Half.com have targeted college students, promising low prices on used textbooks and second-hand dormitory furniture.
"Those sites see less of a surge, but there is more activity," said Pillon.
In addition, Walmart.com, the e-commerce arm of retail giant Wal-Mart (NYSE: WMT), recently opened an online college bookstore, offering students discounts of up to 30 percent on more than 300,000 titles, including textbooks, study guides and graduate school guides.
Pen in a Bucket
Traffic to office supply sites also increases considerably. However, because the bulk of supplies are small-ticket items such as pens, notebooks and backpacks, the effect on overall e-commerce is slight.
Office supply sites such as Officedepot.com did see strong increases during the first two weeks of August, according to Pillon. Lauren Garvey, a spokeswoman for Office Depot, said that the retailer is working to promote its site, along with its offline stores, amid one of its busiest seasons of the year.
Several store promotions, including teacher's awards ceremonies and a give-back program that donates a portion of every purchase to a chosen school district, have been extended to the Web.
"We're driving traffic by getting people to use the Net to find their school code," Garvey told the E-Commerce Times.
Teachers Rule
Office Depot does not break out back-to-school sales, but Garvey said that fall is one of the three busiest seasons — along with Christmas and tax season — for it and its competitors such as Staples and OfficeMax.
Getting teachers to go online is especially important, because a recent study by the National Education Association found that teachers spend an average of $408 per year out of their own pocket on school supplies.
Booksellers such as Amazon and Barnesandnoble.com (Nasdaq: BNBN) do target the season, but are less likely to see a boost from consumers.
Captured Audience
"Most schools have books or a dedicated place to get them," said Pillon of NetRatings. "Even school supplies is a small piece. You really need to look more toward the apparel side for any real upside."
Analysts have questioned Walmart.com's move to target the $6.6 billion-per-year college textbook market. That market is dominated by two companies, Barnes & Noble and Follett, which together run 74 percent of all the campus bookstores in the U.S.
Many college students have resisted buying books on the Web, due to delays in shipping and receiving.
Not the Season
Meanwhile, one overriding factor might make it extra difficult to track and compare the 2001 back-to-school season to its predecessors.
"The state of the overall economy and market is reflected online — and the state isn't that great," Forrester Research retail analyst Carrie Johnson told the E-Commerce Times. "Spending hasn't halted or even slowed down enough to cry recession, but we shouldn't be surprised to see much lower growth numbers."
In fact, the National Retail Federation said its pre-back-to-school survey found that the average family plans to spend almost $100 less this year — $457 compared with $549 in 2000 — when getting ready to hit the books again.
"Hopefully, if there is a slow back-to-school season, it won't mean a slow holiday season," said Johnson, who is currently working on estimates for year-end online sales data that are likely to show much slower growth than in the past. "That's the season that e-tail is already looking toward. Back-to-school is just a stop along the way."