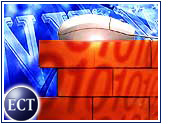 The latest best friends in multichannel sales are Amazon.com (Nasdaq: AMZN) and Circuit City (NYSE: CC).
The news that the e-tail leader and the electronics giant are joining forces should come as no surprise to observers of the dot-com landscape. Powerful alliances are what it's all about, especially now that e-tailers are scrambling to redefine e-commerce in the wake of the dot-com shakeout.
Alliances. Now there's a word that might be the saving grace for online shopping. Is there a company going it alone on the Net these days? Or is e-commerce now all about co-marketing, further obscuring the barriers between brick-and-mortar and online sellers?
In a word, yes. And if nothing else, the deal between Amazon and Circuit City is going to address some of the major concerns that consumers have about shopping online.
All For One
First, even if people haven't shopped at Amazon, they have likely shopped at Circuit City, or at least read through the electronics retailer's ad supplements in newspapers coast to coast. Circuit City equals familiarity for American consumers. Familiarity, as we all know by now, breeds sales.
Further, consumers are still skeptical about fulfillment as it relates to buying online. The terms of the new alliance will allow shoppers to buy online at Amazon and then pick up their purchases from their closest Circuit City store.
So, everybody wins, right? Consumers get to expand their shopping possibilities, Circuit City broadens its already respectable reach, and Amazon gets a percentage of every sale of Circuit City merchandise initiated on its Web site.
Clean, simple and strategic, right?
Proceed With Caution
Yes and no.
Amazon, already known for smart co-marketing agreements, counts its electronics division among its most powerful efforts. As a free agent, Amazon can develop sales agreements with any company it sees as a sales leader.
However, what seems like a sweet deal for all concerned today could easily become confusing as time goes on. Suppose, for example, Amazon develops a similar marketing agreement with a fierce competitor of Circuit City. Competition is still competition, despite the channel. Will Circuit City take kindly to Amazon's unbridled growth, even if it casts a shadow over the electronics giant in the process?
And what happens if Circuit City decides to strike a major marketing agreement with America Online, for example? How will Amazon CEO Jeff Bezos et al. feel about that?
The Human Element
Multichannel alliances are probably necessary to both the survival of e-commerce and the growth of brick-and-mortar retailers. No one questions that.
However, in making these deals, several issues must be addressed by the operations, marketing and strategic planning executives at each company:
Short term and long term goals. It is not enough to just sign on the dotted line. What does each company hope to gain from the alliance? Establishing measurable goals, much like the goals in an initial business plan, could go a long way in monitoring the success of the partnership.
Competition clauses. Is everyone involved free to make deals with any other company of their choice, or will there be specific limitations imposed on future alliances with direct competitors?
Assignment of liaison people from each company. Like any partnership, alliance or joint venture, ongoing communication is key. How much and how often may be up for discussion, but it needs to be spelled out before finalizing the deal.
Act Two
Few people in the e-commerce industry are crazy enough to believe that the shakeout is history, but it does appear to be leveling out a bit. If that is the case, the next act in e-commerce has everything to do with new channels, new technology and, equally as important, strategic alliances.
With wireless technology ready to burst onto the scene, mobile transactions set to become de rigeur and consumers ready to take the electronic plunge, now is the time to craft the best deals.
But the best deals are not necessarily those that will render fast cash or short-term gratification. The best deals involve smart marketing, lasting partnerships and longevity.
What do you think? Let's talk about it.

---
Note: The opinions expressed by our columnists are their own and do not necessarily reflect the views of the E-Commerce Times or its management.
---