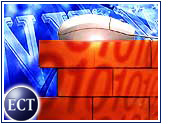 Memorandum to executives at Barnes and Noble:
If you want to stay in the online bookselling business, it is time to play another game. That game is follow the leader, and if you want, the position of leader is still available to you.
You have been at the forefront of some brick-and-click integration developments, tying your stores and Web site together as well as anyone. In many ways, your online affiliate, Barnesandnoble.com (Nasdaq: BNBN), is already a leader.
But it's time to take the next big step. It's time to go all the way.
Buy it Back
A handful of retailers have taken aggressive steps in recent weeks to bring their dot-com units, once spun off with sky-high hopes and aspirations, back into the fold.
There are a lot of reasons why so many retailers are buying back their dot-com arms, but those reasons are a far cry from type of integration and maximization of sales channels that Barnes and Noble (NYSE: BKS) has strived to achieve since spinning off Barnesandnoble.com.
Yes, these moves — in which K-Mart took over BlueLight.com, Wal-Mart bought out its dot-com venture partners, and Staples gave up the IPO ghost for its online unit — are as much about appeasing investors as anything.
But there's no shame in making a company's online unit part of the whole, instead of a separate entity. The reasons for doing so make perfect sense. They are, in short, a recognition that e-commerce isn't some rogue animal that can only exist in its own territory, but an integral part of what every business should be doing.
And you already know that better than anyone.
Money Talks
Sure, some investors will be angry. Some will probably even sue you, but that's par for the course these days.
In the long run, though, wouldn't everyone benefit?
Your dot-com investors would get shares not of a dull old brick-and-mortar bookstore chain, but of a fully integrated brick-and-click company that has proven its mettle online. One that has seen the future and is acting to capitalize on it.
And your old-line investors would benefit too, though they would probably squawk themselves at first about the dot-com unit diluting the value of your company.
Leader of the Pack
Now, I caught serious flack a few weeks back for suggesting that Barnesandnoble.com was goaded into introducing free shipping by Amazon.com (Nasdaq: AMZN), which abandoned the offering a couple of days later, leaving Barnesandnoble.com holding the bag.
Despite the criticism, I still believe that Barnesandnoble.com's move was a reaction to Amazon's. But that type of follow-the-leader isn't what's being discussed here.
We're talking about a logical progression, a final step in the direction you're already heading, Barnes and Noble. In fact, not to put too fine a point on it, but these other companies are frankly following that trail that you already blazed in many ways. They see the potential, thanks to you.
Even Amazon has designs on a more integrated world. But who's in a better position to beat them to the punch than you?
Making it Pay
You've done the hard work already. You've built the stores. You've done the trial-and-error and trial-and-success thing on the Web. The spinoff was the right thing to do at the time, and you did it.
But now it's a different time. We know more than we did then. So do the right thing, Barnes and Noble. Or, to put it another way: Just undo it.
What do you think? Let's talk about it.