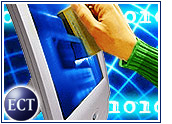 Although European e-tailers are facing their own wave of closures and consolidation, a study released Tuesday by the Boston Consulting Group (BCG) found that the continent's online retailing industry is "far from dead," but rather that consumers are growing increasingly enthused about purchasing from brick-and-click merchants.
Underscoring the "profound influence" the Internet has over offline consumer behavior, the study said that 88 percent of potential shoppers browse online before making a purchase in a physical store.
With more European shoppers indicating that they want to be able to use the Internet in conjunction with offline outlets to select goods and services, conduct transactions, and obtain post-sales support, the research firm said it is imperative for retailers to develop an integrated multichannel approach.
"Many opportunities exist for traditional retailers to move ahead of their competitors by using the Internet to address consumers' desire for an integrated multichannel experience," BCG vice president Stefan Rasch said. "Online retailers should not treat the Internet as an independent or standalone business, but as an integral component in their multichannel strategy for attracting and deepening relationships with high-value customers."
Widening Divide
Further bolstering the role that the online arms of European retailers are playing in an increasingly multichannel environment, BCG said that the Internet is also accelerating the separation of "winners and losers" among merchants.
Additional data in the study revealed that 37 percent of online users who have compared products and prices on the Web before buying reported that browsing helps them get a better idea of the choices available. Of these consumers, 85 percent of those surveyed said they are loyal to the brand and product they identified online, while 35 percent are loyal to the merchant.
"If an established retailer has the largest offline presence and manages the Internet successfully, it will have built a multichannel presence that is hard to match," said BCG.
In many sectors, the report predicted, the continent's pure-play e-tailers will face a difficult struggle to stay in the game.
Stressing Service
To mount a successful brick-and-click strategy, however, the study said that European retailers must give consumers a satisfying online shopping experience, because doing so will have a "tangible effect" on both Web-based and offline sales.
"The positive impact of satisfied customers and the negative impact of dissatisfied ones have a greater compounding effect on the bottom line than many retailers realize," concluded the report.
In fact, BCG found that European consumers who had satisfying purchasing encounters spent about 40 percent more than dissatisfied buyers.
Satisfaction Guarantee
"As customers become increasingly comfortable with multichannel purchasing, they will demand a more sophisticated level of service," said Alex Lintner, BCG vice president and co-author of the report.
"The companies that are striving to keep pace with their customers' expectations and concentrate on satisfying them in all aspects of their online shopping experience — from providing a simple, intuitive Web site to offering reliable fulfillment in all channels — will have a real competitive advantage," Lintner added.
To compile data for its study on "The Multichannel Consumer: The Need to Integrate Online and Offline Channels in Europe," BCG surveyed almost 12,000 Internet users and interviewed executives at retailers in the UK, Germany, France, Sweden, the Netherlands and Italy.