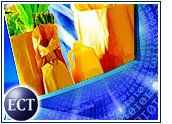 UK grocer J. Sainsbury said Friday it has killed an ambitious plan to merge the Internet and television into a single vehicle for advertising and e-commerce after less than a year of operation.
Citing weak advertising and e-commerce revenues from the project, Sainsbury said Friday that it would end its agreement with Carlton Communications to create the Taste Network, about 11 months after it launched. The project will be dissolved by September 1st, Sainsbury said.
Sainsbury will take back the Taste Network site and operate it alongside Sainsbury's other e-commerce offerings, while Carlton will regain full control of the Carlton Food Network television channel.
Bad Timing
"Taste was an innovative project but has suffered from weaker than expected growth in advertising and e-commerce revenues in a generally difficult market for niche channels," said Matthew Kearney, director of business development at Carlton Communications.
In addition to offering content from the Taste TV network, the site offered a link to Sainsbury's to You, the grocer's Web offering.
The two companies had reportedly invested about US$14 million in the network since it launched last September. About 20 jobs will be lost as the venture closes.
Market Unkind
While the firms hoped to use the project to attract advertisers eager to target a food-loving audience, Sainsbury said that additional funding of the project did not make sense, given the economic climate.
"We have jointly agreed that we should take back the assets that we invested, rather than begin to invest capital when the market conditions are no longer right for testing our concept," Sainsbury e-commerce and business development director Angela Megson said.
Web Presence Needed
The failure of the project comes just a few weeks after a study from the Boston Consulting Group reported that the Internet has a "profound influence" on consumer behavior in Europe.
Sainsbury competes head-on with Tesco, which runs a profitable Web grocery business in the UK and has begun to make its presence felt in the United States as well. In June, Tesco bought a 35 percent stake in the online operations of Safeway, known as GroceryWorks, for $22 million.
Advantage: UK
UK and European shoppers have been taking to online grocery shopping faster than their U.S. counterparts for some time. Forrester Research has estimated that UK grocery shopping will account for nearly 7 percent of all grocery sales by 2005.
So far, less than 2 percent of all U.S. food shopping is done via the Web. In fact, Jupiter Media Metrix recently cut its forecast for online grocery shopping in the U.S. in half, predicting that about $1 billion will be spent this year in the sector.