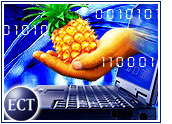 The shutdown of long-struggling Webvan (Nasdaq: WBVN) on Monday leaves several major U.S. areas without any online grocery service, as well as with no clear indication of how quickly the sector's remaining competitors will rush to fill in the gaps.
In particular, large pockets of the South appear to have been at least temporarily abandoned by Internet urban delivery providers, and could remain so until industry survivors feel secure enough to pursue expansion.
Although Jupiter Media Metrix has concluded that long-term projections for the online grocery industry remain positive, it recently scaled back its forecast for the category as a whole. The research firm pegged revenues for the sector to be between US$780 million to $800 million for 2001 and $1.3 billion in 2002 — about 20 percent lower than previous projections.
Despite the closures, however, industry analysts believe that savvy businesses and investors can still get mileage out of the online grocery concept.
"Selling convenience to Americans is rarely a bad idea," Gartner research director Whit Andrews told the E-Commerce Times.
What Happens Next?
Jupiter noted that while Webvan accounted for 46 percent of the sector's revenue, it does expect niche competitors to begin picking up some of the bankrupt company's customers.
Andrews said that the penetration of online grocers into certain geographic locations will be "governed by how much one can cut costs." However, Andrews also forecast that the next five years will bring about a "major innovation" in channel mixing, sales and methods.
"People who sell groceries know how to do it," said Andrews. "Basically, supermarkets own the opportunity to sell day-to-day stuff to suburban America."
Supermarket Sweep?
Until now, supermarkets have mostly focused on aggregating their services and goods into their brick-and-mortar locations, according to Andrews. However, he predicted that many will soon begin recognizing that there is also potential in delivery, drive-thru and commodities subscription businesses.
Andrews also predicted that two other shifts in the online grocery industry will take hold in the coming years: smart partnering among supermarkets and consolidation.
"Anywhere they can find margins or a path to margins, they will go," he added.
Webvan's Expiration Date
Steeped with high expectations and considerable capital backing, onlinegrocers were dot-com darlings at one point. As part of its strategy to penetrate multiple geographic areas across the country, for instance, Webvan inked a $1 billion deal with construction giant Bechtel to build fully automated grocery distribution centers in as many as 26 U.S. markets, including Chicago, Los Angeles and San Francisco.
During the first half of the year, however, the company was forced to exit several markets — including Atlanta, Georgia; Sacramento, California; and Dallas, Texas — and postpone expansion plans in a few East Coast cities. In the end, analysts say that Webvan spread itself too thin too quickly, thereby dooming its ambitious business model.
A similar fate befell Internet delivery service Kozmo, which shut down its operations in April after failing to land additional funding. Kozmo had offered one-hour delivery of almost any product in nine U.S. cities, including near-profitable services in Boston, Massachusetts and New York.
Other defunct regional efforts include ShopLink.com and Streamline.com, as well as HomeGrocer.com, which was purchased by Webvan and merged into its operations.
One Pea in a Pod
With the disappearance of niche rival Webvan, Peapod.com (Nasdaq: PPOD) now stands as the sole survivor of the initial crop of online grocers that launched during the heyday of Internet start-ups. Even Peapod, however, has been forced to scale back its geographic expansion plans.
Earlier this year, Peapod exited the San Francisco market in order to focus on its East Coast operations. Peapod currently serves a select group of metropolitan areas, including Boston, Massachusetts; Chicago, Illinois; Long Island, New York; Fairfield County, Connecticut; Northwest Washington, D.C.; Montgomery County, Maryland; and Fairfax County, Virginia. Peapod has said that it is profitable in Chicago and Massachusetts.
Like Webvan, Peapod had many struggles of its own, and was brought back from the brink of bankruptcy by Royal Ahold last year with a $73 investment. In return, the Dutch supermarket giant gained an almost 60 percent stake in the online grocer.
Taking on Tesco
One company that is hoping to replicate its international success in the domestic market is UK-based retailer Tesco. Having achieved profitability by racking up impressive sales through its online channel in the UK, the company announced last month that it was buying a stake in GroceryWorks.com, the e-tail business of supermarket chain Safeway (NYSE: SWY).
Although GroceryWorks has currently suspended operations, it will launch at a later date under the Safeway brand, with online deliveries being completed by local stores.
The new venture stands to be a significant competitive force in the Internet grocery industry, building on Safeway's chain of 1,747 stores nationwide. By melding brick-and-mortar offerings with online capabilities, the companies are taking the multichannel approach that industry analysts believe to be crucial to survival in the sector.
Another critical component of the integration plan involves the impressive track record amassed by Tesco.com. The site has almost 1 million registered customers and processes roughly 70,000 orders every week. Tesco also has over 900 stores in Europe and Asia.
Looking to Survive
Reflecting the shift in the entire e-commerce arena towards consolidation, other online grocers have looked to acquisition in order to survive. In May, Web delivery venture WhyRunOut.com purchased brick-and-click grocer PDQuick.com, which had branches in Southern California and Maryland.
Meanwhile, online food channels that work with a network of neighborhood supermarkets have also emerged as a viable purchasing option. For example, PeachtreeNetwork.com currently has partners in Pittsburgh, Pennsylvania; Washington, D.C.; Chicago; New York City and Buffalo, New York.
Other Internet grocers, such as Netgrocer.com, now only offer "household replenishment" items — including non-perishable groceries and health and beauty aids — for shipment to the anywhere in the continental U.S.