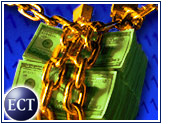 UK retailer Tesco said Monday it will enter the U.S. online grocery market, buying a stake in the e-tail business of supermarket chain Safeway (NYSE: SWY).
Tesco said it will pay approximately US$22 million for a 35 percent stake in Safeway's GroceryWorks online subsidiary, enabling the U.S. company to expand its Internet business.
Tesco also said it led a round of financing for GroceryWorks, giving the e-tail venture a boost consisting of $35 million in cash and other assets. Safeway holds a voting stake of about 50 percent in GroceryWorks.
British Invasion
Tesco says it operates "the largest and most successful Internet-based grocery home shopping service in the world." Tesco.com has almost 1 million registered customers and processes some 70,000 orders each week.
The UK division is profitable, and has sales of about $420 million a year, according to Tesco.
Through the new venture, Safeway aims to "create the biggest and best online grocer in the United States," said Vasant Prabhu, chief financial officer of the 1,747-store chain. "We believe that online grocery is a service that meets the needs of busy consumers."
Site Overhaul
Safeway said GroceryWorks, which began service last year in Texas, will suspend operations on Tuesday, resuming at a later date under the Safeway name. Deliveries will be made from local stores, not warehouses, the company said.
In addition to its online operations, Tesco has more than 900 stores in Europe and Asia.
"We have developed the best online grocery home shopping system in the world, which we know can be of use to other retailers," Tesco chief executive officer Terry Leahy said. "With Tesco's know-how and the Safeway Inc. brand, we have the perfect combination to bring grocery home shopping to the world's largest market."
Long-Term Promise
Tesco and Safeway will compete against another Europe-U.S. venture. Dutch supermarket chain Royal Ahold owns U.S. grocery e-tailer Peapod as well as Safeway competitor Giant Food, which is marketing the online delivery service to its customers.
Though the U.S. market for online grocery shopping is potentially bigger than the market in the UK, Americans are not yet rushing to buy groceries over the Internet. In a May study, research firm Jupiter Media Metrix lowered its short-term sales forecast for the industry, though maintaining a positive outlook over the long run.
Meanwhile, companies like Peapod and Webvan are still working to achieve profitability. Peapod was rescued by an infusion of cash last year from Ahold, while Webvan has been selling assets as it seeks to conserve cash.