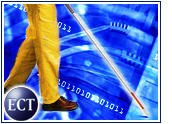 UK brick-and-click retailer Tesco this week launched an online service that will allow blind people to shop over the Internet without using special equipment.
The system, which the company developed along with the Royal National Institute for the Blind (RNIB), uses technology that converts text to speech, describing products on the company's Tesco Direct Web site and guiding consumers through the buying process. A Tesco spokesman said the site is the first of its kind.
Blind and visually impaired people are able to use special software to view Internet pages, but those methods are often imperfect, especially when dealing with flashy, complicated Web sites, according to the RNIB and other advocacy groups.
Tesco says the plan makes good business sense as well. The company is tapping into an underserved market, Tesco spokesman Russell Craig said.
"One of the groups of society that benefits from home shopping in general is disabled people," Craig told the E-Commerce Times.
Tesco, which set up its shopping site about five years ago, discovered that as the site became more complex, including more links and graphics, it became harder for conversion software to read and translate.
"The feedback's been fantastic (on the new service)," said Craig. "We've had some really good e-mails."
Wireless Uses
The project had the added benefit of advancing Tesco's foray into wireless services, said Craig, who added that "because it's very basic text, it translates also extremely well" into use for interactive TV, mobile phones and personal computers.
As a result, the site is also being used to bring Tesco.com to Microsoft Pocket PCs, he said.
The market for Internet accessibility technologies is huge. In the United States alone, more than 1.5 million blind or visually impaired people have access to the Internet, according to the U.S. Census Bureau. Companies including America Online (NYSE: AOL) are working to make their products and services accessible to people with sight disabilities.
Fighting for Access
AOL was sued in 1999 by the National Federation of the Blind, and promised to build accessibility provisions into its service after reaching an out-of-court settlement with the group last summer.
The 2000 Olympic Games in Sydney, Australia also drew the attention of advocates for the blind, when an Australian man sought a settlement from the Games' organizing committee for failure to make the Olympic Web site accessible. The committee reportedly paid a US$20,000 penalty.
Design Accommodations
Visually impaired Internet users would rather have Web sites meet their needs directly, instead of relying on third-party technology, said Lorraine Marchi, founder and chief executive of the National Association for the Visually Handicapped.
Though browser-type programs generally work decently, Web site designers "are not as accommodating as they could be for people with vision problems," Marchi told the E-Commerce Times.
Glitzy programs with overlapping colors and designs are often hard for the software to get around, she said.
"People with low vision need large print, good contrast," she said. E-tailers who want to attract sight-impaired customers should "keep in mind that older people need to have clearer type."