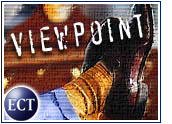 This is the story of a man who fell to earth and landed in a field of cash — soft, comforting, fortuitous cash.
His name is George T. Shaheen, and in case I forgot to mention it, he fell with the aid of a parachute. Some might say the parachute was golden.
Shaheen, 57, spent the last 20 months as chief executive officer of online grocery delivery service Webvan, until announcing last month that he would resign. Note the word retirement has not really been used in this case, as Shaheen is likely to have any number of employment options and offers.
His resignation comes at a time when the company he led for less than two years is struggling not only for profit, but for survival.
Despite some industry prognostications that Webvan could soon join the long list of dot-com casualties, Shaheen leaves his post with a promise of US$375,000 annually for the rest of his life. Further, $6.7 million he borrowed from the company to pay taxes on a Webvan stock purchase has been forgiven by the company. He will reportedly repay the loan with $150,000 worth of rapidly declining Webvan stock.
Powerful Incentives
Is it just me, or is something wrong with this picture? The reason Shaheen will receive his tidy annual sum has to do with the company's efforts to lure him away two years ago from his post as chief executive of Andersen Consulting (since renamed Accenture).
It has everything to do with providing irresistible incentives to experienced corporate executives. It happens routinely in the upper echelons of the dot-com world, but my guess is the Shaheen debacle may be a wakeup call for the New Economy.
While providing lucrative incentives to corporate executives is not unique to Internet businesses, it is relevant that the New Economy has yet to find its true legs in the free enterprise system.Simply put, Internet retailers do not have the financial clout or stability to provide the type of cushion Shaheen will now enjoy.
Corporate Heritage
Back in the 1990s, for example, Disney went through a few tough years.
Nevertheless, CEO Michael Eisner exercised a massive stock option one year, to the tune of $200 million, at a time when his company's profits plummeted an astounding 63 percent. At the time, Eisner was held up as the poster child for corporate greed and a system gone awry.
Unfortunately, e-commerce has taken a page from the old economy's book, enabling corporate executives to essentially underachieve in their positions, yet benefit financially to the tune of inordinately unbalanced sums.
Coming and Going
When Shaheen joined Webvan, he was offered a salary of $500,000 a year with a possibility of a $250,000 bonus — small potatoes compared to the millions he made each year at Andersen Consulting.
What most likely swayed him were the huge stock options. Reportedly, he was given an option to buy 15 million shares at $8 a share, plus substantial additional options. By the end of last month those shares were trading at about 12 cents, with a threat of being delisted by Nasdaq.
Coincidentally, that was the exact moment Shaheen announced his departure.
Hard Lessons
I have a couple of suggestions for dot-coms far and near. The first is: Get Real.
Stop counting on one human being to miraculously save the company. The fact that George Shaheen was successful at a high-profile consulting firm did not mean he would duplicate his achievement at grocery retailer Webvan.
The second is: Merit Pay. It is time to institute a policy of performance-based pay, rather than the unreasonably high incentives and golden parachutes.
The Internet is still relatively new territory. Incentives need to be sacrificed in favor of bonuses and other payoffs that are doled out based on financial growth.And more important, CEOs need to be held accountable for their strategies.
Legal Loophole
Not only might such a shift cause the George Shaheens of the world to more expertly guide their companies to profitability, but it would save the company in other ways too.
Way back in the 1990s, Congress passed legislation that limits the amount of pay a company can claim as tax-deductible expenses to $1 million per executive.There is, however, a major loophole.
Congress forgot to include pay that hinges on job performance. So if a company establishes a performance-based pay system for its top people, that portion of their salaries is exempt from the limit.
Had Webvan required its CEO to produce, rather than simply pin all of its hopes (and money) on him, it's highly possible the company might have a brighter future than many industry observers now predict.
What do you think? Let's talk about it.

---
Note:
The opinions expressed by our columnists are their own and do not necessarily reflect the views of the E-Commerce Times or its management.
---