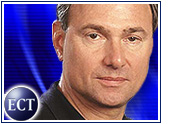 Urban delivery e-tailer Webvan (Nasdaq: WBVN) said Wednesday that it will pay former chief executive officer George T. Shaheen US$375,000 per year for the rest of his life, as part of a supplemental retirement package that was negotiated before Shaheen began his employment with the company.
According to Webvan spokesperson Bud Grebey, Shaheen's monthly payments will consist of 50 percent of his base salary plus 50 percent of a target bonus. Grebey told the E-Commerce Times that Shaheen's annual salary while working as Webvan's CEO was $500,000. Shaheen earned no merit increases or bonuses during his tenure, Grebey said, but his target bonus was $250,000.
Grebey said the initial retirement package contract was due to be paid to Shaheen upon his retirement for any reason, as long as he did not retire before June 30, 2000. Grebey also said that honoring the retirement contract with Shaheen, who resigned last month, will not hurt Webvan's cash flow.
"This is not a severance package — it was reported publicly when he joined the company in October 1999," said Grebey. "He has honored his obligation by the terms of his agreement and we are honoring the agreement that we made."
Necessary Costs
John Challenger, CEO of the job placement firm Challenger, Gray & Christmas, told the E-Commerce Times that these types of packages are necessary to lure old-school executives to risky e-commerce ventures.
"Companies that felt they needed to attract a high profile Old Economy executive went after those CEOs, and may very well have offered packages that now seem outlandish," Challenger said. "But of those Old Economy execs that were being wooed, many would not come without the guarantee on the downside."
Grebey echoed Challenger's sentiments.
"To put it into perspective, you have to understand the caliber of executive Shaheen is," Grebey said. "To lure any executive of that level, you're going to need to provide the incentives that make up for the opportunity costs. He was taking on a very significant risk in his retirement income by coming to Webvan."
Forgive And Forget?
During the first week of May, Webvan also allowed Shaheen to repay a $6.7 million loan with only $150,000 worth of Webvan stock, which closed at 14 cents per share at the end of trading Wednesday.
The loan was used to pay alternative minimum tax (AMT) on Shaheen's purchase of 1.25 million shares of Webvan stock. Grebey said Shaheen was given a bonus when he joined Webvan, and that the bonus was earmarked to purchase the stock — essentially a non-recourse loan secured by the 1.25 million shares.
"Had the shares risen in value, Mr. Shaheen would have sold those shares and used the proceeds to pay back the loan," said Grebey. "Because they declined precipitously in value, he tendered the shares back to the company and met the terms of the loan. He essentially made nothing from that transaction and the company got the shares back."
More To Follow?
Challenger said that one might expect more of these enormous retirement package announcements in the future from e-commerce companies.
"Now they're having a very difficult time getting any players from the Old Economy," said Challenger. "They might still have to offer a package like this because there's no other way to get them."