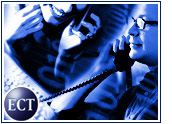 Word of mouth is one of the strongest marketing mediums available — so strong that some struggling dot-coms, desperate to save advertising dollars, are begging their customers to help spread the word about their products and services.
"Word of mouth is very powerful in terms of buying power," Forrester Research analyst Christopher Kelley told the E-Commerce Times. "It can be incredibly effective."
Kelley and Michele Pelino, director of Internet marketing strategies at the Yankee Group, agreed that word of mouth advertising programs that offer consumers rewards for referring friends are especially effective.
Pelino told the E-Commerce Times that Internet service providers (ISPs) use referral bonuses "all the time" to encourage customers to refer their friends.
However, sometimes one company's marketing tool is another company's last-chance grab from the edge of the abyss.
Saving Webvan
In what Kelley termed a desperate bid to woo and keep customers, chief executive officer Robert Swan of Webvan (Nasdaq: WBVN) e-mailed customers Tuesday to ask for their support in keeping the struggling online grocer afloat.
"Recently, many of our loyal customers have expressed their concern and support for Webvan in the current climate of uncertainty in e-commerce," Swan wrote. "I'd like to take this opportunity to thank everyone who has contacted us and to tell all of our customers how we can work together to ensure that Webvan will emerge from this period a better and stronger company."
Swan told shoppers that "one of the most important things you can do is to continue to recommend Webvan."
Public Struggle
Kelley said that the Webvan e-mail was "a testament to how public [Webvan's] struggle has been recently. He likened Swan's letter to a desperate bid by a failing political candidate to "round up the loyal troops to help in anyway they can."
Webvan also promised customers that later this spring, it would be introducing Webvan Rewards as "our way of thanking loyal customers with extra savings, enhanced delivery benefits and priority service."
Kelley believes that Webvan's letter will bring additional business to the company, but said that the real issue is, "Will it drive enough to keep Webvan afloat?"
There is evidence to support both "yes" and "no" answers to that question.
People Power
A recent Forrester Research survey found that more people learned about e-tailers from friends than from search engines.
Online shoppers listen to their friends, according to Kelley, because "consumers who buy online want power." When they hear about a friend having a positive online shopping experience, they want to replicate that experience for themselves by shopping at the same e-tailer.
Pelino pointed out that a word of mouth campaign is effective because of the "credibility factor." She said that people were more apt to believe positive comments about a site from a friend than from an advertisement.
Free to Be
Relying on word of mouth can be a good solution for cash-poor dot-coms because it is a fairly cheap advertising medium. Kelley said that a word of mouth campaign would provide "more bang for the buck" than other forms of advertising. However, he cautioned that the results of such a campaign are "impossible to track."
Kelley also said that a word of mouth campaign would reach a smaller audience than a television campaign that went out to 30 million viewers. However, Pelino pointed out that a word of mouth campaign could be more targeted than a mass media campaign, and was more likely to reach consumers with similar interests.
Pelino cautioned that word of mouth could backfire if an e-tailer does not have adequate customer service and support in place. In that instance, Pelino said, customers could tell all their friends about the terrible experience they had shopping at a particulare-tailer — and the company could actually lose out on potential customers.
Power of the Press
Additionally, although the power of the people may inspire some shoppers, the power of the press is keeping others away with stories of dot-com demises.
Slightly more than 30 percent of respondents to a recent Forrester survey said that they would no longer shop at dot-coms that they knew were having financial difficulties, and 20 percent of respondents said they were less likely to buy from dot-com pure plays.
Some dot-coms, according to Kelley, are "having a hard time acquiring customers because of adverse publicity."
Such hurdles ultimately leave dot-coms with few alternatives. So if a grass roots, word of mouth campaign is the last chance to help a company survive, dot-coms are willing to take it.