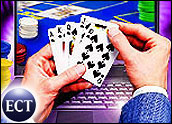 In the days when everyone believed that the future of the economy lay in cyberspace, many dot-coms unwittingly built financial houses of cards by investing substantially in their online brethren.
Taking equity stakes in other dot-coms was "the cool thing to do a year ago, when everyone was living in Never-Never Land," investment banker Gary Lutin told the E-Commerce Times.
By investing in other dot-coms, according to Lutin, companies were "exchanging currency backed by the same fantasy" of a business model that "lacked any basis in reality."
Lutin said that on one level, making mistakes is simply part of doing business. However, he noted that smart companies do not put their own financial health at risk by gambling more than they can afford to lose.
Weighed Down
The practice of taking an equity stake of other companies, particularly business partners, is not uncommon among dot-coms, Morningstar.com analyst George Nichols told the E-Commerce Times.
"It's the culture of tech business," Nichols said. "Compared to other industries, stocks are used as a key incentive to motivate employees and management. They're used to deepen relationships."
Nichols added: "Unfortunately, many companies were looking at taking equity stakes as a way to make a quick buck, but that practice is fading fast."
Bold or Risky
Content provider CNET Networks (Nasdaq: CNET) was one dot-com that rushed to invest in other tech companies, according to Nichols.
"I think CNET has been among the most aggressive," Nichols said. "This really paid off for them for a few years, until the bubbleburst last March. They realized enormous stock gains during the good days, but now it's an anchor around their neck."
CNET's 2000 annual report, dated April 2nd, showed realized losses on the sale and writedown of investments of $277.8 million.
Land Rush Mentality
Online retailer Amazon.com (Nasdaq: AMZN) has also learned the dangers of making investments in other dot-coms. Throughout 1999 and early 2000, the Internet behemoth formed partnerships with, and took equity stakes, in a number of e-tailers, including now defunct dot-coms Pets.com, Living.com and Kozmo.
Amazon founder and chief executive officer Jeff Bezos said in an April 13th letter to investors that the company made the investments because "we believed passionately in the 'land rush' metaphor for the Internet."
Unfortunately, buying into the "land rush" cost Amazon dearly. In its annual filing with the U.S. Securities and Exchange Commission (SEC), dated March 23rd, Amazon said that it had taken losses totaling $189 million in the third and fourth quarter of 2000 because it realized that value declines in six of its investments in strategic partners were not temporary.
Financial losses are not the only consequences of risky investments. Several shareholder lawsuits have been filed against Amazon in recent weeks, claiming that the Seattle, Washington-based e-tailer failed to fully disclose the details of its investment relationships with its partners.
Yahoo! Shops Webvan
Some companies are rushing to salvage anything they can from their investments in failing dot-coms, including Internet portal Yahoo! (Nasdaq: YHOO), whose 2000 annual report showed a net investment loss of $33.7 million.
Yahoo! filed documents with the SEC between February 2nd and March 13th, indicating that it planned to sell approximately 2.2 million shares of urban delivery e-tailer Webvan (Nasdaq: WBVN) for total estimated proceeds of $704,375, or an average of 32 cents per share.
Although Yahoo! would not provide details of its investments in Webvan to the E-Commerce Times, an August 4th SEC filing by Webvan indicates that Yahoo! purchased 4.3 million shares of Webvan stock in 1999 for approximately $10 million, or roughly $2.30 per share.
Webvan's stock closed at 11 cents Monday.
Salvage Value
Companies that fail to act quickly to salvage anything from their investments in dying dot-coms stand to lose even more. The 4.3 million shares of Webvan stock that online broker E*Trade (NYSE: ET) purchased in 1999 for $10 million now has a total value of approximately $470,000.
Unlike Yahoo!, E*Trade has not filed to sell its shares in the troubled online grocer and could end up losing its entire investment, unless Webvan is able to turn the corner and reach profits.
That possibility brings up the question of what a company would do with, as Lutin called them, "worthless securities."
Lutin said that in the old days when paper stock certificates were issued, some people used worthless stocks as wallpaper, but he added that since the securities market had gone digital and stock certificates are no longer issued, wallpaper is no longer an option.