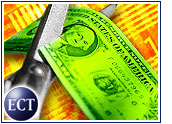 The venture capitalists who got blindsided when the dot-com bubble burst lost a whole lot of money — real money, to be sure — from staggering losses at companies such as Priceline and Webvan, to complete wipeouts like eToys and Pets.com.
The question is, who were VC's biggest losers — the companies and individuals who poured dollars into e-commerce businesses, only to find no riches at the end of the rainbow?
Let's take a walk through the VC burn ward to see who lost how much, and why.
The downturn for VC investments in the past year has been dramatic. Returns to limited partner investments in venture capital funds declined for four consecutive quarters in 2000, according to Venture Economics, and dipped into negative territory with a -6.3 percent return in the quarter ending December 31st.
Even so, for the entire year, VCs managed an impressive 37.6 percent return on investment.
"When compared to Nasdaq's dismal quarterly and annual performance of -32.8 percent and -25.6 percent respectively, the venture industry has fared remarkably well," Venture Economics said.
Of course, those numbers are for VC investments as a whole, and include a number of older or so-called "vintage" funds that have few e-commerce investments in their mix.
In contrast, venture capital investments in the dot-com sector have not fared as well.
Burning the Incubators
Because Internet incubators have so much of their resources invested in dot-coms, they are among the hardest hit by the closures. Pasadena, California-based Idealab!, for example, has racked up losses on a number of its high-profile failures, including eToys and Eve.com.
eToys, which folded in March, spent heavily in its final year, including promotional splashes last summer and winter, but ultimately lost the online toys market to Internet giant Amazon.com, which formed a powerful alliance with brick-and-mortarToys 'R' Us in time for the critical holiday season.
"I'm not sure that we as a VC industry really took the time to figure out the value proposition (when investing in the pure-play companies)," Venrock Associates managing general partner Ray Rothrock told the E-Commerce Times. "eToys, for example, said it was going to sell toys, which is huge market. But if selling toys is a brick-and-mortar business model, then it has to compete on a brick-and-mortar level."
Child's Play
According to Rothrock, there was a belief a few years back that Internet companies could exist without inventory.
"Turned out, that was not true," Rothrock said. "Because if a customer orders something on the Web, delivery was expected in a few days. No one wants to wait for their new Legos to arrive."
Another Idealab! sore point, beauty site Eve.com, burned through $28.7 million in just over a year before closing in October. Feeling its own burn, Idealab! closed some of its offices and canceled its proposed IPO.
Not Pretty
Likewise, Net incubator CMGI (Nasdaq: CMGI) is busy bailing in a bid to stay afloat. Last month, CMGI reported a second-quarter loss that had widened to $2.562 billion.
The company is in the process of selling off many of its dot-com holdings, and said it intends to focus on companies with a greater potential for success.
CMGI founder David Wetherell has seen more than a few bad dot-com wagers made by CMGI's @Ventures unit, including Furniture.com, which closed in November and has since filed for bankruptcy after burning through more than $45 million. MotherNature.com, another @Ventures company, closed in November after posting a $6.7 million loss in its last quarter.
BizBuyer.com, which closed in December after running through $70 million, was also a CMGI investment.
Corporate Toes
Corporate VC arms also poured cash into the dot-com world, and have not survived the shakeout with any fewer scars.
Coffee king Starbucks, for instance, lost nearly $60 million on Internet-related investments like the now-closed Living.com and Kozmo, while media giant Knight Ridder reportedly lost $168 million last year on dot-com investments, including the hits it took in GoTo.com, InfoSpace and Webvan.
"Usually, the investors who get in later end up putting more money in and taking a harder hit in the case of a closure," Venture Wire managing editor Ken Andersen told the E-Commerce Times. "In a lot of these cases, late-stage investors dumped a lot of cash into these companies, and then the market tanked and they are not going to see any of that."
For example, Flatiron Partners and Chase Capital were small, early seed investors in Kozmo, and as a result were not scorched as badly as Amazon and Starbucks, which put up at least half the money invested in Kozmo and took the biggest loss, Venture Wire said. (Venture Wire is a publication of Technologic Partners, which was founded by Dick Shaffer, editorial director of The Wall Street Journal's technology summit.)
Amazon.com chief executive officer Jeff Bezos reportedly said that he regrets the investments made in Living.com and Pets.com. According to Living.com's IPO filing, which was later withdrawn, the site lost $46.5 million.
Sharing the Pain
For many high-profile dot-com failures, there were a large number of investment vehicles involved, including not only limited partnerships, but also corporate venture capital and venture capital funds. Thus, the big-dollar losses were apparently divided by a large number of investors.
"The damage is pretty widespread," Tracy Lefteroff, global managing partner for private equity in technology at PricewaterhouseCoopers LLP, told the E-Commerce Times. "Everyone invested a bit in nearly all of the dot-coms. There wasn't anyone who really escaped."