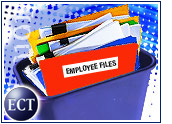 Idealab!, the dot-com incubator behind eToys, CarsDirect and Petsmart.com, said Wednesday that it is moving some of its Silicon Valley functions to the company's Pasadena, California headquarters. The move may result in a number of job cuts over the next few months.
"Wherever possible, Idealab! Silicon Valley's 33 employees will be given theopportunity to transition their employment to one of the operatingcompanies," company spokesperson Teresa Bridwell told the E-Commerce Times. However, those employees are not being given pink slips as yet.
Although it is relocating all of its West Coast new-company development to one place, Idealab! is not closing the Northern California office. That office will continue to support the activities of Airwave, Mybiz and eLease, the three companies that currently operate out of the firm's Palo Alto facilities.
Writing on the Wall
In addition to the Pasadena hub, the five-year-old company has network offices in New York, Boston, Massachusetts and London. In total there are approximately 50 businesses invarious stages of development with Idealab!.
No other offices outside the Silicon Valley will be affected, Bridwell said.
Though Idealab! would not comment on the reasons for the consolidationat this time, the privately held company has sent up various smoke signals indicating that the dot-com downturn has taken its toll.
Rough Times
In October, Idealab! announced that its initial public offering (IPO) plans were being postponed, due to avolatile marketplace and decreased investor demand for Internet stocks. TheIPO was originally expected to raise approximately US$300 million.
In addition, eToys, one of the crown jewels of Idealab!, filed for bankruptcy this week and is closing its doors.
Incubator Heat
During the boom years of 1997 to mid-2000, the number of Internet incubators — firms that offer a hybrid of venture capitalism and business consulting — grew from 24 to 213.
However, the harsh market for e-commerce companies has hit incubators as well as e-tailers in recent months.
For example, CMGI (Nasdaq: CMGI), once one of the Internet's high-fliers, reported a $636.6 million third-quarter loss at the end of 2000.
Stock Tales
In addition, CMGI's wholly owned portal, AltaVista, recently sold its Raging Bull Internet financial community to competitor Terra Lycos (Nasdaq: TRLY) as part of an ongoing corporate restructuring. In November, CMGI sold its iCAST and 1stup subsidiaries.
CMGI, which has more than 70 dot-coms in its stable, closed up50 cents at $4.78 Wednesday, far from its 52-week high of $151.50.
Likewise, e-commerce incubator Rare Medium Group (Nasdaq: RRRR) closed down 3 cents at $1.97, compared to a 52-week high of $94.75.