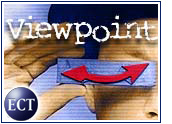 When Internet incubator CMGI ended 2000 with the report of a US$636.6 million third-quarter loss, heads were spinning throughout the e-business industry.
After all, wasn't CMGI the golden child of the new economy? Wasn't CMGI expected to carefully nurture more than 70 dot-coms toward profitability and longevity, thereby proving that e-commerce really is viable?
The Internet incubator was a concept built on a simple, yet unique, blend of mentoring and investing and teamwork, with all three functions being offered by a dynamic group of forward-thinking innovators.
However, that mighty triumvirate of incubator functions is faltering because the mentoring part somehow got lost along the way.
The Thrill of Startups
What good are splashy public pronouncements of new partnerships — or even inordinately large infusions of cash pumped into a number of chancy startups — if there is no captain on board to guide the way?
Even CMGI, once the darling of pundits, players and partners alike, has hit the skids, as have the other big names in Internet incubating.
As a card-carrying member of the pundit part of that equation, I can't help wondering why incubators did not see the forest for the trees.
The Agony of Hindsight
Now, with so many dot-coms dying premature deaths, it comes to our attention that some of them actually started their journey without so much as a business plan.
Others were founded with an intriguing idea or concept, but no experience or real vision to back it up.
Still others entered the market with verbal promises to their incubator enablers, but no real way to say when or how those goals would be achieved.
Circus Act
Is this any way to run the new economy? Where were the market surveys, the measurable goals that traditional businesses live by, and the skilled business people needed to run the show?
Today, as incubator execs shed their proteges with excuses like "aggressive steps to foster growth" and "reorganizing and streamlining," the concept of incubators as applied to the new economy has lost its credibility.
That is unfortunate, because in a pure sense, if they had done their job well, e-commerce could be light years ahead by now.
Magic Show
Ideally, the Internet incubator was supposed to function much like its offline counterpart. An incubator exists to grow businesses. It accomplishes that by finding fledgling companies with apparently great ideas, and offering them the resources to turn those ideas into marketable products and services.
The resources offered include office space, personnel and guidance. While incubators do not own the companies they help launch, they often take a stake in the start-ups. So if somebody wins, everybody wins.
At its best, the incubator concept is a sterling example of the free enterprise system at work.
At its worst, the incubator concept is fraught with foolish greed and aggressive spending with no returns in sight, all fueled by a pie-in-the-sky dream about overnight success. And as we have all learned, success does not happen overnight in e-commerce.
Act Two?
Can Internet incubators recover from multiple mistakes in judgment, sub-standard execution, and ill-advised overspending?
Perhaps it's still early enough in the online selling game for incubators to recoup some losses and prove themselves credible players in the marketplace.
To accomplish that, first they need to get back to basics. Quality-minded incubators with an eye on future returns must exercise caution in their selection of clients and projects.
Chances are one could incubate a new online pet supply store with all the best resources available, and the public still won't bite.
Jugglers Wanted
Net incubator Idealab!, for example, needs to take a look at its questionable involvement with the eToys and Eve.coms of the online world.
Further, a little diversity couldn't hurt. If the public is responding best to brick-and-click businesses, perhaps incubators should pay attention. It is not necessary, and some would say even not advisable, to concentrate solely on pure plays.
Once a new client is accepted, incubators need to take an active role. Providing office space and equipment means nothing if the client is not carefully monitored and nurtured.
End of Days
For example, if an Internet incubator decides to affiliate with a startup company that will sell high-end gifts online, it would behoove the incubator to have someone on staff who has experience with luxury e-tailing.
The online world is more than fully equipped with incubators. From 1997 to 2000, the number of incubators grew from 24 to a staggering 213. Some are now gone, and others are about to disappear. Those that remain need to get smart, right now.
What do you think? Let's talk about it.


---
Note:
The opinions expressed by our columnists are their own and do not necessarily reflect the views of the E-Commerce Times or its management.
---