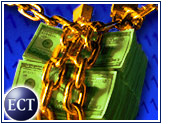 Long-struggling Internet retailer eToys (Nasdaq: ETYS) announced Monday that it will file for protection under U.S. bankruptcy law within the next five to 10 days.
The Los Angeles, California-based company said it concluded that "under any scenario," its outstanding liabilities of approximately US$274 million would "substantially exceed" the value of any proceeds or assets that could be realized from any strategic transaction.
Based on that conclusion, eToys said it has "determined that it has no alternative other than to file for bankruptcy protection."
The company also warned investors that its outstanding equity securities, including both its common stock and its Series D preferred stock, have no value. The company encouraged anyone considering an investment in eToys' securities to consider the company's determination that the securities are "worthless."
Off the List
eToys also said that it has received a notice from the Nasdaq that it no longer meets the minimum net tangible assets requirement for the listing on the exchange.
eToys said that it does not anticipate being able to regain compliance with this requirement.
The common stock will likely be delisted from trading on Nasdaq shortly.
Wind-up Time
eToys has said that it has cash on hand to continue its operations only to March 31st and that it had given all of its 293 remaining employees termination notices, with termination dates extending up to April 6th.
The embattled toy e-tailer plans to shut down the eToys Web site on or about March 8th. After the site is shut down, eToys said it would focus solely on winding down its business and liquidating its assets.
Once one of the Web's high flyers, eToys has made a series of bad-news announcements in recent months. So its decision to file bankruptcy comes as no surprise.
Close, But No Cigar
Earlier in the month, the company announced that it would lay off its remaining employees and wind down operations by the beginning of April. At that time, the company's directors said they did not think additional capital would become available to the company. However, the company held out the hope for an 11th-hour solution.
In December, amid a robust online shopping season, the e-tailer cautioned that it was seeing weaker-than-expected sales and would miss its fourth-quarter target. The company also warned that its cash reserves had plunged and that it would burn through its remaining cash by March of this year.
In January, the company laid off about 700 workers, or 70 percent of its workforce, in an attempt to stretch its cash reserves as long as possible.
The company's European wing — which ranked as the top toy e-tailer in its market — also shut down in January, citing a lack of financial support from its parent company.