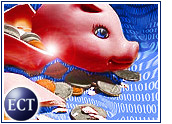 In the most obvious sign yet that struggling e-tailer eToys (Nasdaq: ETYS) is facing an immediate cash crisis, the company acknowledged Thursday that it had missed some payments to a temporary staffing agency.
eToys confirmed the missed payments after the temporary staffing agency said it would write off US$2 million worth of billings that eToys had abruptly stopped paying.
"We are extremely disappointed that eToys suddenly stopped making its payments under an explicit plan, particularly following their history of consistent, prompt payments," said Alan M. Purdy, chief financial officer of RemedyTemp (Nasdaq: REMX).
No Pay for Holiday
Purdy said his Aliso Viejo, California staffing company had provided workers for eToys customer service and distribution centers during the 2000 holiday season.
He added that the company would write off the entire amount, under the assumption that it would not see any of the money. However, he said that the company would not stop seeking payment.
"We are actively pursuing membership on the eToys informal creditors' committee," Purdy said.
According to published reports, that committee already includes several major toy makers, such as Hasbro and Mattel, and other suppliers.
Signs of Trouble
The missed payments are the latest in a series of events showing that eToys, once considered a bellwether e-tailer, is in dire straits.
First, eToys cautioned in mid-December that amid a robust e-tail season, it was seeing weaker-than-expected sales and would miss its fourth-quarter target. The company also warned that its cash reserves had plunged and that it would burn through its remaining cash by March of this year.
Earlier this month, the company laid off about 700 workers, or 70 percent of its workforce, in an attempt to stretch its cash reserves as long as possible. The company's European wing — which ranked as the top toy e-tailer in its market — also shut down, citing a lack of financial support from its parent company.
Buyout Rumors
The company said in December that it had hired Goldman Sachs to explore strategic alternatives. In fact, rumors of a potential buyout temporarily lifted eToys' beaten-down stock, from less than 20 cents to $1 per share on January 17th.
By Friday morning, however, the stock had slid all the way back to 34 cents.
"I wouldn't be terribly surprised if someone bought them out," Morningstar.com analyst Joe Beaulieu told the E-Commerce Times earlier this week. Beaulieu also thinks the company's ongoing clearance sale indicates it is "obviously ramping up to shut down quickly."
Though it consistently ranked No. 2 among U.S. toy e-tailers, eToys' fortunes have plunged at the same time those of Toysrus.com have risen, in the wake of the latter company's strategic partnership with Amazon.com. Combined, those e-tailers attracted twice as many buyers in the most recent holiday season as eToys.