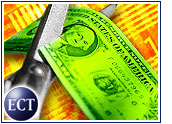 CMGI, Inc. (Nasdaq: CMGI) said Monday it will "exit" the entertainment portal and advertising-supported Internet access business by jettisoning its iCAST and 1stUp subsidiaries.
As a result, CMGI said it expects restructuring charges of US$8 million to $10 million for the first quarter ended October 31st, followed by another $75 million to $80 million in the second quarter ending in January.
"These restructuring efforts will enable CMGI to dedicate resources to those businesses in which it believes it can meet its objectives for growth, leadership and profitability," the company said.
Part of Realignment
In September, the Andover, Massachusetts-based Internet incubator announced a realignment of its many business lines and a plan to reduce the number of operating companies it supports from 17 to between 5 and 10 by the end of fiscal 2001.
CMGI is "beginning to realize some of the expected benefits" of its restructuring, CMGI chairman and chief executive officer David Wetherell said. "Although there is much to do, we are making progress, including some critical, albeit difficult decisions."
Q2 Deadline
The company said it will get rid of entertainment portal iCAST by January 31st because of the "significant capital" required to fund the division and its "extended timeline to profitability." Signatures Network, which had been part of iCAST, will continue as an independent CMGI majority-owned subsidiary.
The 1stUp.com divestiture will also take place by the end of the second quarter.
"Given the investments required to be successful in this marketplace, as well as the challenging dynamics within 1stUp's free, ad-supported access business, the company's timeline to profitability has been greatly extended," CMGI said.
Outlook for Next Year
Looking to the next fiscal year, CMGI said first-quarter revenue is likely to be down about 3.5 percent from the fourth quarter's $377 million as a result of the reorganization. For fiscal 2001 as a whole, the company said, revenue will be about $898 million.
The company, excluding its subsidiaries, has about $940 million in cash and $210 million in available securities.
CMGI said it expects positive earnings before income taxes, depreciation and amortization for four of its five operating segments by the end of the next fiscal year.
Shifting Gears
"We will clearly face some near-term transitions," Wetherell said. "However, our singular focus is on creating and maximizing shareholder value by focusing on the segments where we can achieve growth, market leadership and profitability."
CMGI shares, which traded above 160 early this year, have been in a steep decline, along with those of other Internet incubators and companies dependent on the dot-com economy. Analysts Merrill Lynch and Credit Suisse First Boston reportedly lowered their ratings for CMGI on Tuesday.
In early trading, the stock was at 13 13/16, down 11/16.