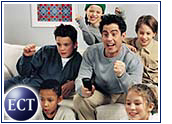 A channel surf across the e-business landscape reveals mixed signals when it comes to the success of TV network-backed Web sites.
The television networks — with their brand identity, pervasive audience base and major financial backing — should have taken their rightful place at the e-commerce table by now. After all, traditional retailers like Gap and JCPenney have already seated themselves and are busy establishing Internet staying power.
However, TV network sites on the Net are in retreat — in sharp contrast to the tube itself, where, it seems, a new cable channel is popping up at every commercial break.
Both broadcast and cable networks have seen efforts on the Internet fizzle. arm, NBCi, which lost US$245 million in the fourth quarter of 2000, and whose stock fell to under $1 per share.
In March, Go.com, the struggling portal of ABC and parent company Walt Disney, was shut down. All outstanding Disney Internet Group shares were converted to Disney common stock (NYSE: DIS).
Layoffs have also hit CNBC.com and CNN.com in recent months, and both Viacom, which owns CBS, and News Corp.'s Fox Entertainment Group, scaled back their Internet plans in 2000.
Wrong Channel?
Are these media conglomerates simply the victims of shakeout runoff, or were they turning to the wrong channel? IDC analyst Jonathan Gaw believes it's the latter.
"Part of it is they don't sell; that's not what they do," Gaw told the E-Commerce Times. "They are content-focused because that's their strong suit. They kind of tacked on e-commerce (to their Web sites), but it's never worked for them and I doubt it ever will."
After all, when you think of buying sporting goods, do you first think of ESPN.com? It may be that the very same brand these sites can leverage to draw traffic does them no good when it comes to selling online.
"They don't offer a value proposition," Gaw said.
An Excellent Driver
What these sites do offer is content with a capital C. They've used that content to successfully draw enormous traffic to their sites — traffic that, in theory, should translate into large online advertising revenues.
However, the online advertising glut of 2000 not only hurt the portals, it wreaked havoc on the television sites as well.
"Most of their revenue is coming from advertising," Gaw said. "It's all they were about, and it hurt them."
Viewers and Visitors
Even with the shrinking market for online ads, shouldn't network sites, in theory, have had another way of justifying their existence: generating higher ratings for their TV networks?
"I think (TV network sports sites) were created to capture the young male demographic rather than to capture revenues, at least at this stage," Don Hinchey, director of creative services for the Bonham Group, told the E-Commerce Times.
However, CBS Sportsline vice president of e-commerce Dan Head told the E-Commerce Times that his site does not do any traffic generation for CBS.
"All we have (online) is their TV schedule," Head said. "The traffic generation is more them to us, than us to them."
No Free Lunch
Despite the strategy problems and closures of TV network Web sites, Gaw said that these sites are not hurting the networks tremendously.
"A lot of the commerce applications have been outsourced," Gaw said. "But it is a drain in terms of attention and they are losing some money on them."
The solution, other than reducing or shutting down the sites, may lie in the creation of new forms of revenue beyond advertising.
"In a tight economy, the pressure comes into play to make each entity self-sustaining," Hinchey said. "One possibility is to charge for the services they've been previously providing for free, or perhaps building in more revenue-based components into their sites (such as fantasy sports)."
Site Unseen
Gaw remains pessimistic that network sites will become major e-commerce players.
"We need to see a huge paring down of the number of content providers (on the Net)," Gaw said. "For better or for worse, free markets do not lend themselves to competition, they lend themselves to monopoly, and that's the case on the Internet as well — network sites that actually make money will be relatively few."