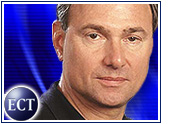 Dot-com companies claimed more executive departures than any other business sector in April, according to a study released Monday by Chicago, Illinois-based outplacement firm Challenger, Gray & Christmas (CGC).
Nearly one-fourth of the 134 chief executive and chief financial officers who left their jobs in April were leaving online companies, according to CGC.
John Challenger, chief executive officer of CGC, told the E-Commerce Times that some dot-com CEOs and CFOs are departing voluntarily because they feel that "no matter what they do, they can't prevent problems."
Thirteen of the 71 total departing CFOs left dot-coms, compared to nine each from the health and retail sectors, while 19 of the 63 departing CEOs worked for Internet firms, compared to seven each in the service and health sectors.
Among the dot-com executive departures in April were Webvan CEO George T. Shaheen, Drugstore.com CEO Peter Neupert, and Outpost.com CEO and president Katherine Vick.
Departures Slowing
Despite the high-profile departures, the overall exit rate for CEOs and CFOs slowed in April.
April's CEO departure list was the shortest since April 2000, when 54 departures were announced, and was down 28 percent from the 88 CEOs that exited in March. So far this year, 389 CEOs have left their posts, according to CGC.
CFO departures dipped 6.6 percent from the 76 departures recorded in March, the first month that CGC tracked CFO exits as a separate category.
CFOs on the Run
A noteworthy development in this report, according to Challenger, was that more CFOs lost their jobs in April than CEOs did.
"CFOs seem to be a more convenient scapegoat when numbers don't look right," Challenger said. "It's shoot-the-messenger behavior."
Added Challenger: "It is significant that departing CFOs outnumbered CEOs. It could be a sign that, during the slowdown, companies are putting greater emphasis on how money is managed, as opposed to how the company is managed. The mounting pressure on CFOs to hold the financial line may be too much and may be resulting in more voluntary and involuntary departures."
Lesser of Two Departures?
It is also less damaging for a company to oust a CFO than a CEO, according to Challenger.
"There is more awareness of the damage losing a CEO causes," Challenger said. "Many companies can ill-afford the loss of time associated with losing a CEO."
Challenger said that although the loss of a CFO is damaging, it is easier to work around the loss of a CFO than a CEO.