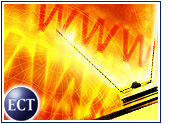 Looking to narrow the gap between television and e-commerce, Internet portal Yahoo! (Nasdaq: YHOO) said Thursday it is expanding its relationship with ValueVision International (Nasdaq: VVTV), the third-largest home shopping network.
ValueVision said it plans to re-launch its cable home-shopping network and online companion site on Friday as ShopNBC and ShopNBC.com, extending a long-standing relationship with that TV network. Once re-launched, ShopNBC will be featured on Yahoo's ShoppingVision, where Yahoo! is using streaming media to encourage online shopping.
The new deal expands an agreement announced last November, just before the stretch run of the holiday season.
Shop@BritneyVision
Earlier this month, ShoppingVision unveiled an experimental interactive video of a Britney Spears shopping spree that let buyers purchase the same items as the teen pop star.
The video proved wildly popular for Santa Clara, California-based Yahoo!, with 400,000 downloads during a four-day period, and has also won rave reviews from analysts for making the best use of technology to encourage e-commerce sales.
"This is just the first indication of the experience we intend to create in our multiple shopping spaces," ValueVision chairman and chief executive officer Gene McCaffery said.
Convergence Ahead
McCaffery said that ShopNBC and Yahoo! are actively seeking additional ways to leverage their respective strengths in the television and Internet worlds.
ValueVision is one of a handful of shop-at-home networks that drive a US$5 billion-per-year industry. ValueVision reaches 46 million U.S. households via cable and satellite television — offering Yahoo! a traditional media connection to go with its top ranking as an Internet portal.
"We have taken the initial steps in our evolution," McCaffery added. "Our new brand signals the beginning of aggressive moves into using converged media for commerce, education, customer acquisition and entertainment."
Click to Buy
In addition to using Yahoo! to gain e-commerce traffic, ShopNBC said it is stepping up efforts to enable television viewers to buy straight from their TV sets. About 3 million households are currently equipped to buy online from ShopNBC through their televisions, the Minneapolis, Minnesota-based company said.
ShopNBC also plans to unveil additional programming that will be run both on television and the Web this fall, and to expand its popular auction-style game show, known as Bid Bash, to the Internet.
Several partners, including casino giant Harrah's Entertainment, which will develop a treasure-hunt program for both television and the Web, have also signed on to the expanded effort.
ValueVision has longstanding ties to the NBC network. NBC and its parent company, General Electric, together own about 40 percent of ValueVision. The shopping network has also tried its hand at investing directly in other e-tailers, joining with the now-folded NBCi last year to invest $20 million in electronics retailer Roxy.com.