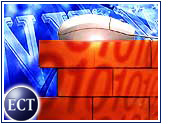 In separate moves, retailers Kmart (NYSE: KM) and Wal-Mart (NYSE: WMT) both said Monday they would move to bring their online units under control of their parent companies.
Troy, Michigan-based Kmart announced an agreement to buy the 40 percent stake in BlueLight.com that it did not already own. Wal-Mart, meanwhile, said it has bought out the venture capital firm that took a stake in Walmart.com when the dot-com unit was established in January 2000.
The moves extend a trend in which brick-and-mortar retailers have been reeling in the dot-coms they had previously sought to spin off into lucrative IPOs.
Office supply giant Staples (Nasdaq: SPLS), for instance, has reached an agreement to buy back its Staples.com division, which the retailer had been positioning for an IPO. Also, supermarket chain Royal Ahold has said it wants to take full ownership of publicly traded online grocer Peapod (Nasdaq: PPOD).
Softbank Out
For Kmart, the decision to buy out the remaining 40 percent of BlueLight appears to be aimed at further leveraging the potential of the brick-and-click connection.
BlueLight was set up by Kmart and Softbank more than two years ago, and Martha Stewart Living Omnimedia later bought a minority stake as well.
Published reports first gave hints of the buyback deal in late May, amid restructuring at BlueLight that included layoffs and executive moves. Softbank, one of the most aggressive investors in Internet pure plays, has since been actively selling off its stakes in many companies.
Kmart said the merger should be completed by August 1st and that an existing rewards program that ties BlueLight and Kmart together would be continued.
Spin Off, Spin On
Separately, Bentonville, Arkansas-based Wal-Mart said it would buy a minority share in Wal-Mart.com from Accel Partners. Financial details were not disclosed.
That move essentially undoes a January 2000 decision to spin off the dot-com venture, a deal reportedly worth up to US$200 million. At the time, speculation was widespread that the dot-com would go public in a matter of months.
Wal-Mart said it would continue to operate Walmart.com in Palo Alto, California, where it set up shop under Accel's watch.
"We have accomplished many of the things that we had in mind when we made the decision to locate Walmart.com in the Silicon Valley," Wal-Mart president and chief executive officer Lee Scott said. "It is clear to us that the next evolution for Walmart.com is to establish an even deeper integration between our online business and the operations of our stores."
Wal for One
Wal-Mart said it is focusing particularly on how to best integrate offline and online operations in the areas of photo processing, prescription drugs and a gift registry.
"The best and most practical way for us to address these opportunities is to do so from within one company," Scott said.
Wal-Mart, which did $191 billion in sales in 2000, said it anticipates no layoffs as a result of the buyout.
The company has been the subject of speculation linking the retailer with Amazon.com. Neither company has confirmed that the two were in talks about a strategic partnership, however.