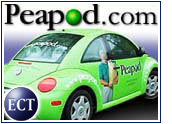 Looking to grab customers abandoned last month by defunct competitor HomeRuns.com, online grocer Peapod (Nasdaq: PPOD) officially announced Wednesday that it would expand its service to new areas in and around Washington, D.C.
Peapod spokeswoman Paula Wheeler told the E-Commerce Times that while the two companies only overlapped in a few areas, Peapod has seen a 30 percent increase in demand since HomeRuns closed.
The home-delivery service will be run through Peapod's affiliation with Giant Food, a chain of 176 supermarkets in the mid-Atlantic region. Giant is owned by Royal Ahold (NYSE: AHO), the Dutch grocer that owns a controlling stake in Peapod.
Peapod said the addition of new service areas in the U.S. capital, as well as suburban neighborhoods in Prince George's County, Maryland, marks the second expansion for the online grocer since it arrived in the Washington area late in 2000 via the acquisition of Net grocer Streamline.com's local assets.
The move also comes about a month after HomeRuns shut down. Washington was one of two major markets served by HomeRuns.
On the Map
"What we've done with this expansion is to basically cover all the areas where they were in," said Wheeler.
Only one ZIP code served by HomeRuns — where Peapod analysis showed too few potential customers reside — is not part of the expansion.
"If people have been accustomed to shopping online in these areas, it made sense for us to be there to serve them," Wheeler said, noting that Peapod had been "seriously looking" at the same areas for expansion anyway. "HomeRuns closing down just accelerated our plans a little bit."
Peapod said the new service would roll out over the next month and a half, starting this week with northeast Washington, D.C. The added service will be run from an existing regional fulfillment center in Gaithersburg, Maryland, according to Wheeeler.
Loss is Gain
Even though Peapod has scaled back, because it still has a relatively wide national presence, the company is in a position to benefit from the demise of several online grocers.
In addition to Washington, D.C., Peapod operates in Boston, Massachusetts, another area that was served by HomeRuns. Peapod said it has seen a substantial jump in orders in Boston as well.
Peapod competed head-to-head in its hometown of Chicago with one-time powerhouse Webvan, until that business shuttered operations and filed for bankruptcy protection last month.
Wheeler said Peapod has seen orders jump 50 percent in the Windy City since Webvan closed its doors.
Take it All
Despite the apparent good news, Peapod's days as an independent entity are likely numbered. Royal Ahold, which took a nearly 60 percent stake in Peapod last year, saving Peaopd from a bankruptcy of its own, announced last month that it would seek to buy all outstanding shares of Peapod.
The estimated $35 million transaction is awaiting shareholder approval and is expected to close in the current quarter.