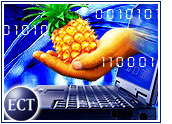 Dutch supermarket giant Royal Ahold (NYSE: AHO) announced Monday that it is set to acquire all outstanding shares of U.S. online grocery unit Peapod (Nasdaq: PPOD), saying that it sees a "growing and strong" demand in the home delivery market.
As part of the estimated US$35 million transaction, Ahold said it will offer $2.15 for each remaining share, a 72 percent premium on Peapod's Fridayclosing price of $1.25.
The move would allow the supermarket chain to attain full control of the Internet grocer and fully mesh the online operations with its U.S. brick-and-mortar chains.
Ahold, which operates Giant Food and Stop 'N' Shop stores in the U.S, originally acquired a 58 percent stake in Peapod last year in return for a $73 million investment that brought back Peapod from the brink of bankruptcy.
"By bringing Peapod fully into the Ahold family, we are best positioned tofurther grow the company successfully and meet increasing customerrequirements," said Ahold chief financial officer Michiel Meurs."Strategically, we are convinced that the Web-based grocery business,combined with our store network under strong local brands, will prove to be a powerful concept to attract and retain loyal customers."
Financial Backing
Peapod's board of directors has approved the Ahold tender offer, which isexpected to be finalized in the third quarter of 2001. Upon completion ofthe transaction, Peapod will merge with an Ahold subsidiary and will be delisted from the Nasdaq.
The acquisition is expected to have an almost neutral impact on Ahold'searnings per share in 2001, the company said.
"Both Peapod and Ahold have absolute confidence in our clicks and bricksbusiness model and in the Internet grocery sector," said Peapod chiefexecutive officer Marc van Gelder.
"This acquisition gives Peapod the strong financial backing to execute itsstrategy," added van Gelder.
Checking Out
Ahold's announcement that it is bolstering its brick-and-click model comeson the heels of other high-profile online grocer departures.
Last week alone, niche rivals Webvan and Homeruns.com shuttered theiroperations, leaving Peapod as the sole survivor of the initial crop ofonline grocers that launched during the heyday of Internet startups.
Even Peapod, however, has been forced to scale back its geographic expansion plans.Earlier this year, Peapod exited the San Francisco market in order to focuson its East Coast operations. Peapod currently serves a select group ofmetropolitan areas, including Boston, Massachusetts; Chicago, Illinois; Long Island, New York; Fairfield County, Connecticut; Washington, D.C.; Montgomery County, Maryland; and Fairfax County, Virginia. Peapod has saidthat it is profitable in Chicago and Massachusetts.
Filling the Void
Peapod said that it is already benefiting from the latest wave of consolidation in the sector. Peapod director of corporate communications Paula Wheeler told the E-Commerce Times that the company has registered a 50 percent spike in orders in Chicago following Webvan's shutdown, which was the only market where the two competed.
Wheeler also said that Peapod is seeing a "substantial increase" in the number of orders places in Boston, where it vied with Homeruns.
Currently serving 120,000 customers, Peapod said that it generated $93 millionin sales in 2000 and $24.9 million during the first quarter of 2001.