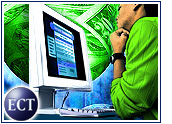 Catalogs have proven to be a catalyst for online retail success.
According to industry analysts, retailers that already had catalog operations in place have effectively adapted their offerings — including known brands, sheer size and developed distribution networks — to consistent success online.
"I believe it's fair to say that catalogers have hit the cover off the ball," Jupiter Media Metrix (Nasdaq: JMXI) senior analyst Ken Cassar told the E-Commerce Times. "They have been able to protect their market share — and possibly even expand their market share — and they haven't lost money while they're at it."
In a report prepared for its clients earlier this year, the Boston Consulting Group (BCG) reached a similar conclusion. Collectively, catalog companies "enjoy the advantages of established brands, existing infrastructures that cover the 'last mile,' and extensive experience presenting offerings to customers who will not be able to see or touch the merchandise before buying it," the study found.
Moreover, BCG said that catalogers' existing infrastructure is "ideal for online sales, since the mode of sale and distribution is virtually the same."
Success Stories
Among the catalogers that have earned high marks for their e-tail operations are Lands' End (NYSE: LE), L.L. Bean, and Spiegel (Nasdaq: SPGLA), through its Eddie Bauer unit.
According to BCG, these types of players have been able to operate profitable online businesses "because the new channel can simply ride on existing infrastructure."
Jupiter's Cassar also points to outdoor gear retailer REI and its online venture as "one of the better" examples of multichannel selling.
"They've added kiosks to all of their stores that provide access to the Web site, allowing them to expand their inventory without giving up valuable floor space to do it," he said.
REI Right On
According to REI spokesperson Jennifer Lind, the company's Internet business is "another spoke in the wheel."
"Integration wasn't so much a buzzword for us as just a reality of how to make it seamless for our customers, so that they can buy from any channel or return to any channel," Lind told the E-Commerce Times.
"To the degree that we've been able to use the technology to do that, we have. Our goal has always been consistent customer service and experience regardless of what channel they chose. We want to be convenient and not penalize the customer for choosing one or the other."
Model Behavior
Lind said that the company did US$92 million in online sales last year, representing over 13 percent of its overall sales of $698 million.
Moreover, the REI site has "always been a commerce model in that it's intended to return profitability in its own right," she added.
"In terms of the financial contribution of the site, it's not supposed to be purely a marketing medium," Lind said. "It's a way to reach new customers. We have a larger percentage of our new customers who go to our site than who shop with us in our retail stores, so it's also a great new customer driver."
Bigger Piece of the Pie
Another appreciable trend among catalog retailers is the growing influence of online sales as a portion of company-wide earnings.
As part of its recent report on the state of the catalog and interactive industry, the Direct Marketing Association (DMA) found that the Internet generated 13 percent of all catalog sales last year, climbing from 9 percent in 1999.
Jupiter's Cassar said the DMA's figures prove that an average cataloger that did not move online "may well have lost 5 to 6 percent of its business" and seen its critical market share erode.
Turning the Page
Looking ahead, Cassar believes that retailers will build on their current efforts to use the Internet as an international prospecting tool, giving them a clearer picture of other potential markets.
In addition, the analyst said the Internet presents catalogers with the opportunity to more finely hone product and price offerings to consumers based on what they know about people's shopping habits.
"They (the catalog companies) really haven't taken advantage of that yet," he said. "If anything, they've gone more mass market online than they do in the mail. In the long term, though, I wouldn't be surprised if, at least through e-mail, they'll better target offers to people.
"Ultimately, I wouldn't be surprised — and they haven't gotten there yet since they're all a bit gun-shy — if catalogers started to reduce the frequency of their mailings, reduce the size of their catalogs, or doing everything the same on the print side but expand their selection using the Web, without incurring any increase in print and creative costs."