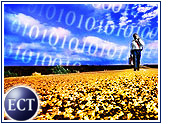 We may have seen the worst of e-tailing attrition inthe last two years, but we have not seen the last ofit. Surviving online retailers still have substantialwork to do in order to reach the end of 2002 without closing up shop.
"The shakeout is not over," Gartner Group researchdirector Geri Spieler told the E-Commerce Times."Unless pure-play e-tailers like Ashford.com, Gloss.com, and othersingle-line players get the attention of the consumer,they will have a difficult time surviving."
Effective marketing is indeed one of the challenges facing online retailers, along with channel integration and margin-driven product strategies, said analysts.
Most Internet retailers have addressed the mostegregious mishaps that sank their competitors, such as faulty order-taking and shipping systems. But their success in the new year is far from guaranteed.
Money Mishaps
Hindsight reveals that mismanaged marketing budgetswere a key culprit in the failure of many e-tailers.
"Companies got a lot of money and spent it onimpractical and ineffective things like huge officespace and Super Bowl advertisements," Gartner Groupresearch director David Schehr told the E-CommerceTimes.
"Today's pure plays have found small niches andare marketing with stealthy guerilla tactics that takefew marketing dollars," he said.
Customer Costs
Looking ahead, retailers that overspend on marketing without significant customer conversion rates will struggle, according to Yankee Group analyst Paul Ritter.
"Most online retailers that spend in excess of US$20to $40 for each paying customer, or that spend 50percent or more of revenues on sales and marketingexpenses, are likely to have a difficult timesustaining their business," Ritter wrote in a recentreport.
By those metrics, VitaminShoppe.comand SmarterKids.com — with per-customer acquisition costs of $67 and $111, respectively – may be facing uncertain futures, Ritter suggested.
Channel Rut
Another fault of yesterday's e-tailers was ashortsighted devotion to the Internet as their solitarysales channel.
The companies that survived the initial rounds of the shakeout are those that took smallincremental steps to build on existing businesses,rather than starting from scratch, said Schehr.
For example, the online arm of outdoor clothing retailer REI owes its survival, atleast in part, to its integration with the companysother sales channels – catalog, in-store andtelephone.
According to Schehr, Internet merchants looking to beat the odds must provide better coordination of sales channels. A combination of underlyingtechnologies and customer service principles should make a customer's chosen sales channel a neutral factor.
Brick is Basic
Even retailers that began as purely online operationshave realized that brick-and-mortar ties are criticalfor survival.
"The virtual world is fickle," said Spieler. "Theconsumer only thinks of what is in front of them, notwhat they can't see. Amazon (Nasdaq: AMZN) has madedeals with brick-and-mortar companies to takeadvantage of their real-world presence."
Retailers that remain solely online, like Ashford.comand Gloss.com, will have to bank on creative marketingand carefully honed product strategies for theirsurvival, added Spieler.
Marginal Success
Indeed, product strategies centered on negative orslim profit margins have undercut many e-tailers'hopes for endurance.
Pets.com met its end in 2000 largely because of its negative 3 percent gross margins, according to Ritter.
Amazon, Ashford, and Gloss havenarrowed their product offerings and merchandizingstrategies to categories that sell well online, saidSpieler.
Remaining online retailers that do not work toimprove their margins in 2002 face a rocky future,analysts agree.
"[A negative margin] is not a successful model forpublic firms that must report quarterly results thatcontinue to meet or beat Wall Street's expectations,"wrote Ritter.
Service or Sales?
The e-commerce aspect of Bloomingdales.com, run by FederatedDepartment Stores (NYSE: FD), will not make it past thefirst month of 2002, thanks to a poorly planned onlineproduct strategy.
The downfall of Bloomingdales.com signals thebeginning of a new trend among big chain retailers,suggested Spieler.
"[They] will look more critically at thecost versus return-on-investment that their Webchannels offer," she said. "We will begin to see alarge shift in terms of consolidation and movementtoward more service-oriented retail Web sites, [rather] thansites designed strictly for merchandising and sales."
Other retailers should not necessarily followFederated Department Stores' example, suggestedSchehr, and should guard against overreacting toadversity.
"It is just as important to take small, careful stepsin retrenching as it is in growing," added Schehr.