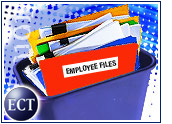 The number of layoffs announced by Internet companies fell to a 17-month low in December, raising hopes for a more upbeat 2002, according to a report from outplacement firm Challenger, Gray & Christmas.
Dot-com companies cut 2,403 jobs in December, a 17 percent decrease from November and nearly 90 percent below the more than 10,000 jobs cuts in December of 2000.
In fact, the last month of 2001 saw the fewest layoffs in the Internet sector since July of 2000.
"For now, things appear to be somewhat more stable for the dot-coms that survived the major shakeout," said John A. Challenger, CEO of the Chicago, Illinois-based firm, which began tracking Web-related layoffs in December of 1999.
Improving Trends
Of the December cuts, 100 came from online retail companies, 332 from financial firms, 130 from entertainment companies and 70 from Web media concerns.
While dot-com layoffs peaked in April, when more than 17,000 jobs were shed, the latter half of 2001 saw an overall slowdown in job cuts. Since August, only the month of October, when Internet travel firms were hit hard by the aftermath of September 11th, saw increased layoff activity.
Record Year
Still, despite the December slowdown and the trend toward fewer layoffs, 2001 went into the record books as the most devastating year in terms of Internet jobs lost.
For the year, 100,925 positions were cut — about 250 percent higher than the 41,515 cut during all of 2000, when the dot-com shakeout began in earnest.
Technology Hit Hard
While high-profile e-commerce and media-related busts marked the 2000 downsizing, layoffs in 2001 were more likely to be from the companies that help power the Internet.
Dot-com technology firms, such as e-business software makers, laid off 1,300 workers in December and more than 36,000 for the year, making it the most heavily impacted sector by far.
Consumer services firms laid off about 21,000 workers during the year; 12,587 professional services jobs were lost; and the online retail sector shed 9,953 positions in 2001.
Positive Outlook
But Challenger remains upbeat about the overall Internet economy and its ability to create jobs in the coming year and beyond.
He pointed to several positive trends, including the growth of online travel businesses such as Orbitz and early reports of a strong 2001 holiday shopping season from leading companies such as Yahoo! (Nasdaq: YHOO).
"The Internet is still burgeoning and there is a lot of uncharted territory that will create new business opportunities and the job growth that naturally follows," Challenger said.
Underlying trends, including growth of Internet adoption among consumers, point to more e-commerce being conducted and therefore more jobs.
"The promise of continued growth in the number of Web surfers bodes well for those still hoping to stake a claim on the Internet," Challenger added.
"As creative entrepreneurs continue to find successful niches, the result will be more jobs."