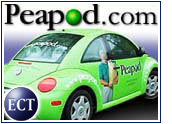 The shakeout in the online grocery sector came on hard and fast in 2001. And, somewhat ironically, the one company left standing was the first to wave a warning flag.
After all the dust cleared, Peapod.com, now owned by Ahold (NYSE: AHO), is one of the only online grocers with considerable geographical reach and national name recognition still in business.
What is Peapod's secret? Probably the deep-pocket backing and early decisions to exit some markets.
However, according to the attorney general of Massachusetts, Peapod got ahead of the game by cheating.
Charges Settled
This week, Peapod settled charges of misleading customers about its pricing policies, agreeing to pay US$200,000 in restitution and another hundred grand in legal costs.
As is often the case, Peapod did not admit any wrongdoing in signing the settlement. But the fact that the company has agreed to pay more than 5,000 customers $4 for every $1 they were allegedly overcharged speaks for itself.
The issue in the case was whether Peapod was involved in deceptive advertising. The officials and lawyers who filed a class-action suit claimed that Peapod originally told shoppers that its online prices were the same as for goods sold in the Stop & Shop supermarkets.
Sometime after that, the site started charging around 10 percent more than the brick-and-mortar stores, without disclosing the bump in price.
Lost Memo
Peapod blames an internal communication flaw for the problem, but the lack of disclosure speaks directly to the economics of online grocery shopping and, for that matter, online shopping in general.
At the time, Peapod was offering free delivery as well, something that it and any other online grocer that wants to survive has long since done away with.
So where was Peapod going to make money? Grocery stores are, of course, largely help-yourself establishments. The sales clerk stays put, while you do the running around and picking out items. All that labor was being absorbed by Peapod and its competitors for nothing.
Business 101
No wonder the company raised prices. It was probably a sound business move. The 10 percent level even sounds about right — just enough of a cushion to cover costs and maybe even make it worth Peapod's while from a profit standpoint.
It's also a move that might have worked with consumers as well — if only Peapod had trusted customers enough to let them know.
Consumers who buy groceries on the Web want convenience and are prepared to pay for it. They do the same cost-benefit analysis that every shopper unconsciously does before each purchase.
Return, Customers
Those customers who didn't think buying groceries online at breakeven prices seemed worthwhile aren't the customers Peapod wants or needs. On the other hand, the people who really want and need the service Peapod is selling probably have a higher tolerance for paying more.
Peapod officials did the math and realize their employees' time is worth a 10 percent premium — if not more — or a one-time delivery charge.
Peapod knows that now. And fortunately for Peapod, it's not too late. The company has underestimated its customers once. And now Peapod got a very unusual opportunity: a second chance.
What do you think? Let's talk about it.
---
Note:
The opinions expressed by our columnists are their own and do not necessarily reflect the views of the E-Commerce Times or its management.
---