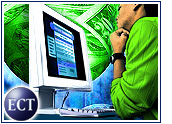 E-commerce sites that promote a sense of community among visitors by soliciting feedback and other content have a better chance at success, according to a report released Thursday by McKinsey & Co.
The study, which McKinsey prepared along with Jupiter Media Metrix (Nasdaq: JMXI), found that such features as chat rooms, bulletin boards and product review pages "create substantial value for both retail and content sites."
"Users of community features at the Web sites we studied generate two-thirds of their sales despite accounting for only one-third of their visitors," said Shona L. Brown, a managing partner in McKinsey's Los Angeles office and lead author of the report.
Untapped Market
"Web sites of every kind are under pressure to show profits, so these findings suggest an important and largely untapped opportunity," Brown said.
For instance, McKinsey found that only one of the top 10 online apparel sites — and just two of the top 10 general merchandisers — now offer community features.
McKinsey also found that users of community features are more loyal to a given site and more likely to come back. Users who contribute product reviews or post messages visit sites nine times as often as noncontributors do. Contributors also make purchases nearly twice as often.
"Even users who read but don't contribute to community exchanges are more frequent visitors and buyers," Brown said.
Open Argument
Some of the best-known e-commerce sites have used a sense of community to keep customers at their sites longer. Auction leader eBay (Nasdaq: EBAY), for one, has leveraged community to become one of the most consistently profitable dot-coms.
At the same time, several high-profile Web sites, including Theglobe.com and others — which were built around the idea of fostering community that can be leveraged into commerce — have foundered amid the dot-com shakeout.
That has caused some observers to question the true value of community to the bottom line.
"The concept of virtual communities may by now seem almost quaint, at least so far as commerce is concerned," Brown noted.
Community Value
But a sense of community affects Web site performance in several ways and can even be valuable for business-to-business (B2B) sites, McKinsey argued.
Among e-tailers, financial sites and online auctioneers, community features help increase conversion of browsers to buyers and make visitors more likely to return often. Such features also can reduce customer service costs for some B2B companies, the report said.
For content and entertainment sites, community means more chances to sell upgraded services and better data collection opportunities, which in turn can mean more profitable advertising sales.
Across all sectors, the most effective companies offer community features that are connected to all parts of the site. The most effective community sites also offer incentives, such as recognition and brief biographies, to frequent contributors and are maintained to keep out inappropriate content.
"As business-to-business and business-to-consumer World Wide Web sites struggle to stay alive, they should tap into the benefits of online communities to reap profits on the Internet," Brown said.