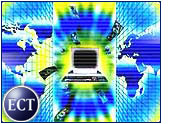 Blaming a sagging market for online advertising, Theglobe.com, which staged one of the first blockbuster initial public offerings of the Internet era, said Friday it would shutter its main site, lay off half its workers and seek a buyer.
The New York City-based company said it would close Theglobe.com effective August 15th, as well as WebJump, which hosts e-commerce sites for small businesses. About 60 workers, or nearly half of the company's employees, have also been fired.
Current plans call for the firm's family of gaming-related sites, including Happy Puppy, Kids Domain and Games Domain, to be sold off or run individually. Theglobe.com will also leave its New York City headquarters for a "less expensive" location later this month.
Portal Losses
Theglobe.com chief executive officer Chuck Peck said the community portal was contributing "disproportionately to our operating losses." Closing that site allows "senior management team to focus solely on our core strength — games."
In fact, the gaming sites combined rank among the top three on the Web, according to Theglobe.com, which also publishes a computer games magazine.
Peck said the prolonged advertising slump forced his company to take drastic measures. In April, the company's shares were delisted from the Nasdaq stock exchange. Since then, Theglobe.com has been sued by shareholders.
Downward Spiral
"Over the past 12 months, we have taken aggressive steps to position Theglobe.com for a turnaround or business combination dependent on a rebound in the online advertising sector," Peck said. "But the sector remains severely depressed and there are few signs of a rebound in the near-term."
Theglobe.com helped fuel the frenzy for Internet-related stocks when its share prices skyrocketed more than 600 percent on its first day of trading in November 1998. Priced at US$9 per share by underwriters, the stock soared to $90 as trading began.
Community Downfall
Theglobe.com then became an aggressive player in the portal space, moving to add services and features. For example, in mid-1999, it struck an alliance with the Drkoop.com to provide medical content to the site and added its own auctions and intellectual property services.
However, Theglobe.com faced increasing competitive pressure as its rivals found buyers or partners and consolidation made certain Internet properties into giants, while others shrunk. Based heavily on community, Theglobe.com targeted the same audience as Tripod, which was bought by Lycos, and GeoCities, which was acquired by Yahoo!.
Theglobe.com failed to find the same audience as its rivals, however. The portal did not make either the Nielsen//NetRatings Top 25 or the Jupiter Media Metrix Top 50 Web properties lists for the month of June. According to a report published in June by Jupiter Media Metrix, four Web sites control half of all Internet surfing time by U.S. users: America Online (NYSE: AOL), Yahoo! (Nasdaq: YHOO), Microsoft (Nasdaq: MSFT) and Napster.