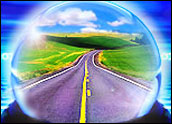 When online portal CitySearch.com announced layoffs of 90 employees this month, it was billed as a cost-cutting measure designed to help the company reach its profitability goals.
The move, like so many similar actions by other companies this year, was blamed on the soft ad market. It is only the latest and most public announcement of the underlying struggles local portals face.
Across the nation, expensive office space leased a year or two ago now houses skeleton crews. Local portals are fading into ghost towns. Which leads many to ponder the question: Is there a place for local portals on a worldwide medium?
If the analysts are to be believed, it would certainly seem so.
Think Globally, Live Locally
Local e-commerce is gathering steam. The Local Commerce Monitor found more local businesses buying online ads (17.2 percent) than direct mail ads (15.5 percent).
Each of the 50 largest U.S. markets is home to more than a million Internet users — adding up to a series of attractive markets. According to The Kelsey Group, those users will up their local spending to the tune of US$25 billion in 2005.
It makes sense. After all, each Web site visitor lives someplace. And despite the global nature of the Internet, most don't think of themselves as citizens of the world. They identify, live in and care about a specific community. They're looking for weather, events, restaurants, banking and bill paying — anything that hits close to home.
The need is there. The advertisers are interested. So what's the problem?
News Isn't Enough
Portals, hoping to attract large audiences and the targeted ad dollars that follow, have shifted strategies more than once. Traditional media powerhouses depended at first on their existing paradigms — newspaper sites repurposed news stories and classified ads, and television stations annotated news broadcasts and relentlessly plugged user polls on the air.
Disappointed by audience numbers, many shifted their approach. The New York Times, The Washington Post and Knight-Ridder (among others) announced local portal strategies in 1999.
For its part, CitySearch essentially outsourced its news production, partnering with media companies to provide news stories, so that it could focus on e-commerce.
One interesting initiative from CitySearch enables people to print their own special event tickets. Printed on standard letter-sized paper, the tickets leave plenty of room for advertisers willing to pay to reach buyers who will be nearby on a given date and time.
Local Yokels
Nevertheless, despite inherently local content like event calendars, network portals like CitySearch, Yahoo!, and AOL's Digital Cities were often viewed as "outsiders." Increasing competition appeared from homegrown sites with ties to local media — and local merchants.
Newspapers and televisions aligned sites with existing local brands, cashing in on the consumer "trust factor." A recommendation for a local event or new restaurant had more pull coming from a known source. Plus, existing brands had something naturally that national brands would have to work to emulate — local flavor.
In response, Cox Interactive Media (CIM) and CitySearch opened offices at the local level, hiring managers, content people and ad sales staff.
Identity Crisis
The idea was sound — despite the loss of economies of scale, each site was ensured a distinct local flavor, which appealed to local consumers and advertisers alike.
CIM took things a step further by giving each local site a unique name, to make it seem like each site was not part of a network of over two dozen sites. However, the new strategy did not come without a cost: an adverse effect on overall network identity.
A loyal user of CIM's AccessAtlanta, planning a trip to Austin, TX, might not necessarily transfer trust — or even discover — sister site Austin 360. In contrast, visitors to a CitySearch or Real Cities site need look no farther than the generic skyline at the top of the page to realize they are visiting part of a larger network.
The Winning Formula
So what's the lesson here? How can local portals attract the audiences that will, in turn, attract advertisers? The answer may lie in the two key words buzzing around local portal circles these days: personalized and transactive.
Personalization has been a cost of entry for users for some time now, creating quite a few advantages for the portal. The user must register, volunteering vital demographic data. Registered users tend to be more loyal to the site. Personalization lends itself extremely well to local information — after all, users aren't looking for just any restaurant, they're looking for the one down the street.
However, the formula doesn't work without transactive elements. Users aren't just looking for movie times; they want to buy a ticket. They don't just want to read a review of the new neighborhood restaurant; they want to make reservations.
Local portals that can provide transactional, personal information to visitors by partnering with merchants and media will be the winners — and so will consumers.
What do you think? Let's talk about it.

---
Note:
The opinions expressed by our columnists are their own and do not necessarily reflect the views of the E-Commerce Times or its management.
---