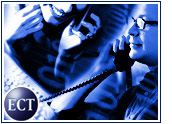 Ever wished customers would roll out the virtual red carpet for your new product announcements? Want to create excitement among vendors and consumers? A little buzz could go a long way toward selling many types of products.
Earlier this month, Forrester Research took a good look at the entertainment industry's online marketing efforts. After surveying executives in industries as diverse as motion pictures, book publishing and video games, Forrester encouraged them to pursue online marketing — particularly viral marketing — more aggressively.
It occurs to me that many executives in other, less glamorous industries could learn a lot from the entertainment industry's mistakes. The advice rings as true for any e-commerce concern as it does for Hollywood and its brethren.
Shotgun Marketing
The surveyed entertainment executives reported using a mix of tried-and-true online marketing methods, with uneven success.
In addition to a glitzy Web site devoted to the entertainment product, a large majority were also using direct e-mail marketing, banner ads and advance information to cultivate fans or customers.
To a lesser extent, marketers were offering free downloads of product samples, sponsoring related company sites, and building "online street teams" to talk about the product favorably in online forums and chat rooms.
This shotgun approach seems to be covering all the bases, but the commitment to online marketing was not necessarily there. A typical online ad budget for Hollywood is less than 1 percent of the overall marketing budget for a particular product. The majority of funds are still funneled into traditional offline media such as television and print.
Speed Up the Buying Cycle
Forrester's report also brought home a number of points about word of mouth and the buying cycle. Viewing online consumers as simply a target for a message causes many marketers to miss out on a huge opportunity because online consumers can be a valuable marketing resource themselves.
Consider: in the traditional world, a satisfied customer might tell a few friends and acquaintances about his or her experience. Online, a customer can post a message about the experience — and reach more people, more quickly, and those people have an electronic medium at hand to send the message out yet again.
Facilitating conversations about your product, gathering enthusiastic customers together, and exposing these positive conversations to potential customers can greatly speed up the decision-making process, turning indecisive people into willing consumers.
Word of Mouth is King
Creating a buzz is all about getting people talking about your product. It sounds simple, but requires a fundamental shift in strategy.
What does this mean to the typical e-commerce company launching a new product?
First, the budget focus should shift away from a glitzy Web site proclaiming the product's greatness. Make the site easy to navigate and highly informational, but don't blow the budget.
Instead, focus your efforts — and your bucks — on generating the buzz.
Collect satisfied customers on your site, and find where they gather on other sites.
Cooperate with consumer-driven sites and provide them with advance information and behind-the-scenes extras.
Encourage consumers to review your product online.
Use street teams to create a buzz for your product by identifying enthusiastic consumers and encouraging them to post positive reviews of the product, linking back to the official site.
Monitor message board discussions to note what parts of your marketing are working, and with whom — and adjust your efforts accordingly.
Warner Brothers did a great job in this last category for the upcoming "Scooby Doo" movie. After online fans expressed concerns about the movie, the studio arranged an advance screening for a group of them. The group liked what they saw and spread the word online.
Something To Talk About
But wait — there's more.
Encourage the buzz by using online reviews in your promotional materials. If eight out of 10 online reviewers love your product, say so. Avoid canned quotes, because consumers are skeptical that most testimonials are biased and highly edited. Use actual consumer quotes, and provide a link to the original message to convince skeptics and gain credibility.
Identify what it is about your product that people will be asking about, or bragging about, and focus on that. After the product's release, shift the site's focus to consumer discussions and encourage participation.
Lights, Camera, Action! Now go ahead and make some magic.
What do you think? Let's talk about it.
---
Note:
The opinions expressed by our columnists are their own and do not necessarily reflect the views of the E-Commerce Times or its management.
---