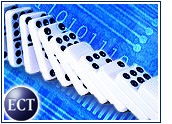 Internet companies will have to wait at least another year before the advertising market rebounds, research firm Jupiter Media Metrix said Wednesday, slashing its spending forecast for 2001 by 20 percent.
Online ad spending will be US$5.7 billion this year, down from anearlier forecast of $7.3 billion, Jupiter said.
"The inability by marketers to evaluate online advertisingeffectively has lead to the current hiccup in spending," Marissa Gluck,a senior analyst with Jupiter, told E-Commerce Times.
Gluck, who presented her findings at Jupiter's online ad summit in NewYork, said that leaner ad budgets will put a serious crimp in revenue projections for many firms this year.
Long-Term Optimism
However, Gluck added that she remains positive about Internet advertising inthe future, predicting that spending will grow at a compound rate of 22percent over the next five years.
Jupiter said it expects the I-marketing sector to see about $15 billion in spending by 2006,off substantially from earlier projections. For 2005, Jupiter nowpredicts spending of $12.9 billion, down from a previous estimate of$16.5 billion.
"Online advertising, when fully measured, remains a strong impetus ofconsumer action," Gluck said, "including increasing traffic and sales, inspiringloyalty and promoting referrals."
Web-based advertising will account for 7 percent of the totaladvertising market in 2006, up from 3 percent this year, Jupiter said. Financial services companies will take the majority of space,followed by automotive and media companies.
The Coupon Crowd
The real growth in ad spending, Jupiter said, will come from digital marketing such as coupons, promotions and e-mail, rather than direct advertising on Web sites. Jupiter forecast that digital marketing spending will hit $19.3 billion by 2006, compared to an estimated $2 billion in 2001.
Other analysts said the reduced forecast emphasizes the need forInternet companies to find other ways of generating revenue to remain open.
"AOL Time Warner is proving that its business model is validated," Andrea Rice of Deutsche Banc Alex Brown told the E-Commerce Times. "The mix of various properties is serving as a hedge against the fall in online advertising."
AOL's Synergy
John Corcoran of CIBC World Markets agreed, adding that companies thatdo not find alternative revenue streams will not grow and be in position to take advantage of increased spending in future years.
"There is a lot of synergy in the AOL model, and that is what keeps themin front of everyone else," Corcoran told E-Commerce Times.
In contrast, Web portal Yahoo! (Nasdaq: YHOO) has struggled to gain footing in a shifting advertising market. The company has posted net losses in three straight quarters, and isapparently searching feverishly for ways to increase revenue.
Meanwhile, Jupiter is having its own problems. Once a WallStreet darling, shares in the company are trading at less than $1, which couldlead to it being delisted from the Nasdaq market. Jupiter stock wastrading at more than $28 a share this time last year.