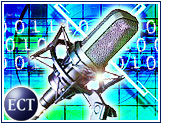 Earnest Thompson, director of corporate marketing and brand communicationsfor Siemens in the United States, recently spoke with the E-Commerce Times about the company's Internet advertising campaigns.
Siemens AG (NYSE: SI), Europe's largest electronics and electrical engineering firm, has its hands in the automation, communications, lighting, medical, power and transportation sectors. Recently, it has been expanding its U.S. operations, which have been reorganized under Siemens Corporation.
Siemens Corporation manages the operations of 30 companies that design, develop, and manufacture electrical and electronic systems. Its products range from business phones to automation systems and data networks.
According to Thompson, online advertising should be coordinated with other parts of a company's marketing strategy in order to maximize a campaign's effectiveness. Thompson added that Siemens also likes to target online ad campaigns at a few key sites, instead of spreading the ads across a broad area.
Integration Is Key
Q: What steps, or series of steps, do you take when planning an onlineadvertising campaign?
A: Our campaigns are always part of an integration. We look for aspectsthat integrate with the rest of our campaign. We also look at sitedemographics, how they're trending, and then we have the various sites puttogether proposals. We kind of look for integrated opportunities, whether(an online company has) a TV side, or whatever.
Q: Should an online advertiser choose many sites on which to advertise — orspend the same amount for a larger buy on one site?
A: Each advertiser has to answer that for themselves. We tend to look at ahandful of sites that we think reach a segment of our market.
Q: What process do you use to determine how much of your overall advertisingbudget is allocated to a particular site?
A: What they present us with in terms of integration. If CBS Marketwatchcomes in with something that includes integrated spots in a section of astory, instead of just a banner. Also their demographics.
Q: What are the biggest challenges of marketing via interactive media?
A: Being fresh without being obnoxious. For example, when we have a new TVcampaign, we ask: Is using our jingle interesting or obnoxious? Does it addon to what we're doing — or does it subtract from what we're doing?
Banking on Brand
Q: How well suited is the Internet for branding campaigns? What about forlead generation?
A: I think it's best suited for branding campaigns. The way onlineadvertising is now, people tend to see the brand more than the clips. I'm acorporate branding guy, so I look at it more for branding than for leadgeneration. My biased view is, it has a ways to go in lead generation.
Q: What advantages have you gained through running a banner ad campaign?
A: It's definitely helped our branding, because it isn't standalone. It goeswith other campaigns. It also helps us to broaden our reach, because it goesto a variety of sites.
Going Wide?
Q: Have the new larger ad sizes had an impact on your advertising campaigns?
A: Yes, they give us more flexibility and diversity.
Q: What are some successful strategies for online advertising?
A: For me, the most successful one is integration. We went on ESPN.com,for example, and we didn't just have the banner, we had, "Siemens presentsthe Ryder Cup." That kind of opportunity also allows us to be embedded inthe editorial (content of a site).
Q: What pitfalls should an online advertiser try to avoid?
A: We like to go to a handful of sites, usually five or six. You need tokind of pick and choose. Don't spread too thin. You can try toget too clever for your own good, and then you don't build a brand. Youdetract from it. Also, don't go to just one site, unless that's the onlyplace your customers go.
Guiding Lights
Q: Are there products or services that are not suited for promotion throughonline advertising?
A: You can brand, but you can't necessarily sell, say, a power plant, or someof the high-end medical equipment.
Q: How do you measure the effectiveness of your Internet marketing campaign?What factors come into play?
A: We get weekly reports on hits, clickthroughs — and certainly, the metricsguide us.
Road Ahead
Q: Based on your experience with Web marketing thus far, what does thefuture hold for online advertising — both in terms of strategy andtechnology trends?
A: From a strategy standpoint, I'm pretty convinced it can't be astandalone. It has to be integrated with the other media. That said, Ithink there's a lot more opportunity with increased bandwidth to be moreprovocative, sending interesting messages using sound and video and thelike.
Q: What advice do you have for a company starting to plan a new onlineadvertising campaign?
A: Know where your customers are and your prospects are, and then do goodthings at a handful of them. And try not to spread yourself too thin.