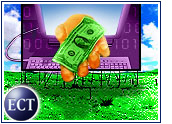 Let's face it. Pop-up ads are annoying. Spam is illegal. Offline advertising is so, well, non-interactive.
In response, major U.S. advertisers are, one by one, discovering a new approach to Internet marketing. If your spellchecker is not already saturated with buzz words coined in the Internet era, it's time to add this new term: advergaming.
More fun, more engaging and more interesting than some banner ads, advergaming combines advertising campaigns with high-tech online game playing to create an entertaining, engaging message. At least, that's the idea of Ford (NYSE: F), Nabisco, Pepsi (NSE: PBG) and Paramount — major companies spending major bucks to develop ads you can play.
The campaigns are certainly attention-getting, and many consumers are being convinced to part with valuable minutes, even hours, of their working days to play them.
Fun and Profit
The trend toward using games to attract world-weary, tech-savvy young adults makes sense. Gaming as an industry has grown more in the past five years than any other form of entertainment, to the tune of US$6.5 billion in 2000, according to Jupiter Media Metrix.
Besides the companies already mentioned, Nike (NYSE: NKE), Disney-owned ESPN (NYSE: DIS), Burger King, General Motors (NYSE: GM) and Honda (NYSE: HMC) have all launched — or will launch in the coming months — campaigns centered around custom-designed games.
They're following in the footsteps of companies like Nabisco, whose popular Candystand site attracted 800,000 people last June, according to Jupiter Media Metrix.
Last March, Ford embarked on an e-mail based campaign promoting a new sports utility vehicle, the Ford Escape. Ford reports that 40 percent of the customers who receive the e-mail clicked through to play the online game (which involved the vehicles racing on the moon for prizes), and customers forwarded the game to an average of three friends each.
Online Arcade or Research Lab?
The engaging nature of advergaming holds the attentions of consumers longer, allowing e-tailers to educate them about new products or product features.
For example, General Motors' upcoming game, designed to promote the new eMotion brand, has players making adjustments to the online cars, helping them perform better in extreme environments. In doing so, consumers learn about the eMotion technology, which affects the car's engine and transmission.
Most advergame efforts, notably Candystand, center around driving the branding image home to consumers. But advergames can be taken a step further, gathering valuable consumer information seamlessly.
Ford's moon race game, for example, allows racers to choose the color of their vehicle, providing Ford with color choice data. Players are also required to submit e-mail addresses in order to register for prizes. Similarly, an advergame from Nike lets players choose a style and color basketball shoe for a virtual Vince Carter to wear on the court. The choices include shoes currently on the market, and shoes Nike would like to test market.
Not Just Child's Play
Perhaps the most attractive element of advergaming is the demographic it targets. Online gaming, growing at a rate of 25 percent per year, is set to overtake movies as the reigning entertainment option. Jupiter Media Metrix estimates 35.1 million people played online games in 2000, with that number expected to rise to 104.9 million by as early as 2005.
A recent study by the Interactive Digital Software Association shows 42 percent of those frequent game players are over 35, while another 30 percent are age 18 to 35. For Ford, which wanted to target the tough-to-crack 18 to 39 year-old demographic, advergaming was the obvious choice.
Pricey Solution
It's entertaining, it's engaging — but does advergaming work?
The most successful campaigns seem to have a few things in common. The branding message is incorporated closely into the design of the game itself. As they play, customers are educated about the product — or, at least, imprinted with the branding message.
Viral marketing comes into play when consumers are encouraged in clever ways to share the game with others, through challenges or multi-player gaming. Permission marketing is key as well, with players often willing to submit an e-mail address in exchange for the chance to win prizes through the game.
Of course, all that brand recognition does not necessarily translate into sales. In addition, advergaming does not come cheap. Advertisers spend an average of $100,000 to $500,000 for a custom-designed game for use in an advergaming campaign, putting it out of reach for many e-tailers.
Without a doubt, there is more to be learned about the advergames people play. But right now, it appears that there will be no shortage of players.
What do you think? Let's talk about it.
---
Note:
The opinions expressed by our columnists are their own and do not necessarily reflect the views of the E-Commerce Times or its management.
---