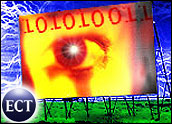 Bigger. Flashier. More intrusive. The advertising industry is willing to try anything and everything to get people to pay more attention to their Internet advertising.
Here's another idea: Start with some interesting advertisements. That might do more than all the multimedia, interstitial and skyscraper ads combined to get the Web advertising industry off of life support.
As of right now, the vast majority of ads on the Web are simply too easy to ignore. They have no relevance. They don't compel me to click them. They are well on their way to becoming background noise.
But if the advertiser hits the right note, any size ad can be effective. In other words, it's not about the size of the banner, it's about what's in it.
There are naysayers who claim that Web surfers have become too savvy and too used to seeing banners to click them that much any more. But I contend that today's Internet users are just as eager to be entertained, enticed — and above all, surprised — as they were in the earliest days of the commercial Web.
But don't just take my word for it.
Nielsen//NetRatings tracks which banner advertisements get the most clicks. The list shows that people will click on even the smallest of ads if the ad is good enough.
Click the Pounds Away
Two of the top 10 on NetRatings' list promote a quick weight-loss diet program. Two more advertise Classmates.com, a service for helping to find "old friends." Four ads are for credit card services or debt-refinancing plans. And other two in the top 10 are for Columbia House, each offering 4 DVDs for 49 cents as an introductory offer.
A few things jump out when looking at this list. One, it's not terribly diverse. All 10 of the most-viewed ads fall into one of four categories. Second, while some of the banners use flashy graphics, most are just text ads with interesting offers.
The point is that these top 10 ads hit home. Americans are more overweight and more in debt than ever before. And who isn't at least curious about finding their old friends? What Internet surfer doesn't have at least half an eye peeled for a great deal?
Is there a magic formula for successful ads in this mix? Well, since not everyone is selling diet pills or in the business of gathering the e-mail addresses of old friends, probably not. But some general lessons can and must be learned.
Target Yourself
Don't waste money advertising something specific to a general audience. This means you, X10.com. What percentage of the population actually buys wireless spy cameras, anyway?
And you too, Casino on Net (888.com). Online gambling isn't my cup of tea, and I don't want your ad popping up when I look at a page that has absolutely no plausible relation to online gambling. I venture to say the majority of my fellow Internet users feel the same way.
But more important, make me curious. Make it impossible for me to resist the urge to click out of the page I'm on — and to your site.
I'm a savvy enough Web user. I can always get back to where I was. If I see something intriguing enough, I'll take the trip.
Uncharted Territory
This task isn't easy. It will probably require content as well as commerce. Information as well as deals. But, that's supposed to be the beauty of the Web. You never know where the next click will lead.
And if advertisers want to tap into the true power of the Web, that's where they should aim. Bring back that sense of adventure that took us all to the Internet in the first place. Do that and we'll be clicking like crazy.
What do you think? Let's talk about it.

---
Note:
The opinions expressed by our columnists are their own and do not necessarily reflect the views of the E-Commerce Times or its management.
---