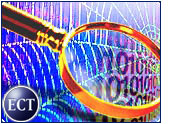 How often do you update your Web site? I'm not talking about nifty functions that put today's date on the page. I'm not even referring to Just-in-Time (JIT) systems that dynamically update your site according to inventory levels. What I mean is, how often does someone look at your site with a critical eye, finding areas that are in need of immediate change?
After all, your company goes through changes every day. The business climate you operate within is in constant flux. If your Web site isn't constantly shifting to keep up, you might have troubles.
Just ask U.S. Congressman Gary Condit (D-California). Infamous for his "close relationship" with still-missing intern Chandra Levy, Condit has earned more demerits with the failure to update his official Web site.
As the controversy surrounding Condit's connection with Levy grew, the Condit Web site remained unaffected for weeks. Prominent on the site was a large button advertising "Intern Opportunities," a link that, at a minimum, one could argue was not a politically savvy choice to offer.
However, the point here is not to teach Condit a lesson — there are plenty of others who want to do that. The fact is, e-commerce itself should pay attention to what happened, or didn't happen, with the Condit Web site.
Forget Something?
Now, I know Condit has had a lot on his mind lately. But really, in all those meetings he's undoubtedly had with staff and advisors — discussions on the best ways to handle the press and damage control strategy sessions — you'd think somebody would have mentioned the Web site sooner.
The lesson for all of us is no matter how caught up in everyday crossfire we get, don't forget the Web updates. Especially during the times of emergencies, tragedies and just plain bad press, your site should be part of your first line of defense. At least, it shouldn't add to your problems.
Outdated links and stale information can cost you sales. Customers looking for this week's news who find last month's news will consider your site dead in the water.
Good News Turns Bad
Case in point: the "Current Updates" section on the front page of Condit's site features a link to a January 31st story published by The Modesto Bee, the hometown newspaper that recently called for Condit's resignation. What once was part of an effective sales pitch is now an embarrassment.
Likewise, sections on your company Web site that were once acceptable and favorable can become quickly become ironic or, worse, completely inappropriate. You're already following the news stories published about your company and your industry. Be sure to track whether the latest news requires an update to your site.
The internship button on Condit's site is certainly an embarrassing slip through the cracks. Click on it and it takes you to a handy form to fill out, above which is written, "Whether interning in Modesto, Merced, or Washington D.C., working in one of Rep. Condit's offices can be an extremely rewarding experience."
Yes, despite the disappearance of Levy, the people of Modesto need interns for their representatives in government — just as an e-tailer still needs employees even when some bad press comes its way. However, the wording of the pitch should always be considered against the news of the day. If your e-business is still touting to potential employees the thrill of watching those stock options grow, for example, it's time to revise.
Your Site on Your Side
Web sites serve so many roles for a company: information conduit, sales tool, public relations and marketing mechanism, image builder. If the site is outdated or no longer reflects where you and your company stand, it is hurting, not helping matters.
Automatic updates, no matter how sophisticated, are not enough. A regularly scheduled and thorough review of every section of the site by someone who knows the company — and the business and political landscape — is necessary. Don't let a machine do the work of a real-life editor.
Next time you update your marketing materials and train your phone staff to handle a change in the climate or a breaking news story about your company, make updating the Web site part of the master plan. It may be the fastest way — and sometimes the only way — that your customers will hear your side of the story.
What do you think? Let's talk about it.

---
Note:
The opinions expressed by our columnists are their own and do not necessarily reflect the views of the E-Commerce Times or its management.
---