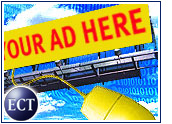 Want to see the future of online advertising?
Among other things, it looks just like something you would find on your TV set.
"We're already seeing (online) ads look more like TV commercials, and that's only going to continue," Denise Garcia, research director for media at GartnerG2, told the E-Commerce Times.
According to Garcia, that trend is great news for online media properties and others who rely on advertising dollars.
Gartner found that during 2000, only two of the top 20 advertisers in the U.S. spent more than 1 percent of their overall budgets online. Those two were Walt Disney (NYSE: DIS) and Microsoft (Nasdaq: MSFT), which have their own online properties.
"Right now, major companies are buying online ads out of their direct mail budgets," Garcia said. "That's the smallest part of their media plan. If the Internet can start to tap into the same big budget that television ads come from, that unlocks a lot of potential."
According to Gartner, 69 new brands begin advertising on the Web every day.
Hurdles Drop
Another factor that will affect the future of online advertising is the spread of broadband services. While technology has traditionally been seen as an impediment to widespread use of streaming multimedia advertising on the Web, Gartner's research shows that this gap will soon close.
About 440,000 U.S. households adopt broadband each month — and by 2003, the Stamford, Connecticut research firm said, broadband will reach saturation in the U.S.
To account for those consumers who remain stuck with slow connections, the Interactive Advertising Bureau (IAB) recently issued guidelines for streaming media ads, suggesting they be designed with stop buttons so unwilling consumers can halt them.
In any case, not all future ads will be streaming commercials, according to Richard Gotham, vice president of sales for Web portal Terra Lycos (Nasdaq: TRLY). Web sites will continue to work with advertisers to find out what their goals are and design specific campaigns to fit those needs.
Not Ad-dle Brained
In their bid for the undivided attention of Web users, advertisers are also pursuing fewer ads per page and more arresting creative content, Gotham told the E-Commerce Times.
"We need to get away from that NASCAR effect," Gotham said. "There's too much clutter. Advertisers want a clear path to their audience."
Gotham, who is also on the IAB board of directors, said the Web has a big advantage over television: measurability. The IAB is currently working on guidelines to help major advertisers understand the reach and impact of various Web sites — rankings that will closely resemble the ratings points system used by television.
Advertisers are "not as concerned with click-through rates," Gotham added.
By Any Measure
"What [advertisers] want to understand is how they can interrupt the user," Gotham said. "Get their attention, create some form of strong impression."
For instance, Lycos developed a gaming-based contest on its Lycos Gamesville site for advertiser Jack Daniels. That campaign not only produced brand awareness, but also helped the company build up its supply of customer e-mail addresses for more direct one-on-one contact.
In another campaign, for LifeSavers, Lycos developed an ad using DHTML (Dynamic Hypertext Markup Language) that shows candies cascading across the Web page. Users who clicked the falling candy were taken to a contest site.
"We got a 6 percent click-through, which is a great response rate," Gotham said (indicating that click-through rates still have some cache).
The Future That's Here
A sneak preview of the future is already on the Web, with interstitial ads that flash on the screen as a page downloads.
Garcia said that customers will by and large accept this form of advertising, citing a Gartner survey that found 69 percent of Web users understand the need for online ads.
"But they're never going to like it," Garcia added.