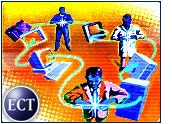 American Express (NYSE: AXP) launched a new company Tuesday, dubbed Workadia, which is aimed at capturing a share of the corporate portal market.
Workadia will provide businesses with customizable browser-accessed portals that employees can use to access a company-selected menu of services, including such options as financial services, e-mail, expense reporting and corporate travel services.
Workadia said it will focus on mid-sized U.S. companies, then expand its scope internationally over time. Partnering with American Express on the project are Tibco Software (Nasdaq: TIBX), WestBridge Capital Partners and Infosys Technologies (Nasdaq: INFY).
"Companies that lack the resources required to integrate and manage critical business systems on the Internet risk extinction," Tibco chairman and chief executive officer Vivek Ranadive said. "Workadia will give companies much broader access to the advantages of real-time e-business in a hosted model, reducing up-front investment and increasing speed to market."
Workadia's products and services are designed to increase productivity by giving employees the ability to conduct business online, the company's founding partners said. Additionally, Workadia said that because it will be hosting the portals, the total cost of ownership and deployment of intranet applications should decrease.
Total Integration
Companies signing up to use Workadia will select the content and services they want to incorporate into their portal. Workadia will create a customizable portal that will allow users to access those products on a single desktop interface.
The new corporate portals will also integrate related systems and automate business processes. For instance, when an employee makes a travel reservation, his or her calendar will immediately be updated to reflect the travel dates. Additionally, online corporate purchases will be automatically routed to the accounts payable department.
"There is an enormous, growing need for this type of service," IDC research manager of Internet infrastructure services Sally Hudson said. "This need, combined with the potential to draw customers from the American Express customer base, should give Workadia a leg-up in capturing market share."
Hudson added: "This partnership and technology combination shows that Workadia has a fundamental understanding of what it takes to create a successful e-business."
Initial Funding: $16.7M
American Express and WestBridge Capital hold majority ownership in the new company, with Infosys holding a 13.2 percent investment and Tibco holding 18 percent. Initial funding for the new company totaled US$16.7 million.
The companies said that Workadia planned to leverage the experience of its partners to "provide superior customer service and marketing, portal development, and technology integration."
American Express is Workadia's first corporate client, and Workadia said American Express employees will help test the enterprise. Workadia plans to launch its services later this year.
Pooling Resources
Workadia will use Tibco's e-business infrastructure software, and Infosys will provide its services to link the systems of new and existing applications for each new customer.
WestBridge will help the new company with various start-up activities, including the recruiting of a permanent management team. For the time being, Workadia will be led by co-founder and interim-CEO Mohit Mehrotra, who is also vice president of interactive business development at American Express.
Workadia's revenue will come primarily from licensing fees from customers, consulting fees and third-party product and service sales.