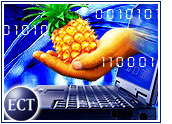 Amid all the bumps in the road for e-commerce in 2001, few sectors were shaken as hard as companies in the online grocery market.
One-time standard-bearer Webvan, which once had the distinction of being the most highly valued privately held company, folded up shop last year, as did a handful of smaller players including HomeRuns.com, ShopLink and Streamline.com.
Peapod also saw its days as a standalone company end after Royal Ahold took it over.
As 2002 begins, the short-term forecast for online grocery sales is decidedly mixed, experts say, with brick-and-mortar grocers looking to step forward even as they work on the winning formula. Still, most analysts remain optimistic about the long-term future of the sector.
"Online grocery sales will grow much faster than brick-and-mortar stores' sales, even without the Webvans of the world," Jupiter Media Metrix senior analyst Ken Cassar told the E-Commerce Times.
Chop, Chop
Halfway through 2001, Jupiter slashed its forecast for online grocery sales by half, predicting US$1 billion would be spent. But within four years, yearly sales should top $11 billion, Jupiter predicted.
One key, said Cassar, is for online grocers to move away from providing bread, milk and eggs and to focus instead on packaged goods, which can be delivered even when a customer is not at home. Packaged goods can also be shipped directly from the producers in some cases.
"Web grocers that offer themselves as marketing channels for those packaged goods makers will be the ones that thrive," Cassar said.
Revenge of the Bricks
Meanwhile, brick-and-mortar grocery stores are quietly launching a second wave of the Internet grocery invasion. Under Ahold's wing, Peapod has announced two expansions in recent months, one in Washington, D.C., and one in New York state.
But even that trend will take some time to evolve into something that most consumers will have access to, or even want, at the current prices, according to Forrester Research analyst Robert Rubin.
"Brick-and-mortar grocers are charging too much for online services," Rubin said.
No Fees, Please
Rubin recommends that grocers with online services waive delivery fees for large orders and offer guarantees that in-store and online prices will be essentialy the same.
The true target audiences of online grocery services are households with high incomes and people who dislike the shopping experience — especially waiting in store lines and unpacking the groceries when they get home.
However, affluent customers are not necessarily willing to pay more for the convenience. Forrester found in a December 2001 survey that only 11 percent of households are willing to pay more for groceries bought on the Web.
"The online grocery cohort targeted by retailers won't pay a premium to buy groceries online," Rubin added.
Once a more balanced pricing approach is in place, however, Rubin sees a robust future for Web grocers, with the number of households doing at least part of their food shopping online growing from 4.5 million in 2001 to more than 14 million in 2006.
And the payoff for grocers will be more revenue. Forrester has found that regular online grocery shoppers spend an additional $1,600 per year on groceries.
Marketing Vehicle
Brick-and-mortar grocers will also soon find a valuable secondary market for their online services, Rubin said.
Because of their affluence, Web customers will become valuable marketing and advertising targets, with the grocery stores acting as intermediaries that provide the marketing information and free samples to their customers.
"Just as online grocers have vaporized, brick-and-mortar grocers have begun to wake up to the opportunities," Rubin said.