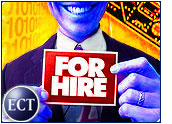 Yahoo! (Nasdaq: YHOO) said it has started to acquire shares of HotJobs (Nasdaq: HOTJ) under the terms of the takeover agreement announced last month.
Yahoo said its wholly owned subsidiary, HJ Acquisition Corp., began offering HotJobs shareholders a combination of cash and Yahoo! shares that values HotJobs stock at US$10.50 per share. The offer is scheduled to expire February 8th, but Yahoo! said it may be extended.
The offer represents a slight premium over HotJobs' current stock price. Shares were up a penny to $10.41 in midday trading Friday.
Meanwhile, the HotJobs suitor that Yahoo outbid, Monster.com, said Thursday that it has been tapped by consulting giant Deloitte Touche Tohmatsu to conduct online recruiting worldwide.
Also this week, Monster unveiled a new software product aimed at corporate human resource managers. Known as Monster Office HQ, the software lets HR managers use a Web browser to track job postings in newspapers and on the Internet and to collect resumes in a searchable database.
Worldwide Efforts
Monster.com — whose parent TMP Worldwide (Nasdaq: TMPW) was slated to buy HotJobs in an all-stock deal before Yahoo! entered the fray — said its partnership with Deloitte will focus on two fronts: MonsterTRAK, the job board's service for college students seeking entry-level jobs or internships, and ChiefMonster, which targets senior professionals and executives.
Deloitte employs about 95,000 people worldwide.
"Attracting top talent is our first priority," said Kent Kirch, global director of recruiting at Deloitte. "The ability to post jobs in multiple countries and access Monster's comprehensive resume database is an important element of our recruitment strategy."
Steve Pogorzelski, president of Monster.com in North America, said Monster will enable Deloitte to present its job openings to potential employees with a range of experience levels around the world. Monster currently operates in 21 countries.
Offers Aplenty
In late December, Monster and TMP dropped out of the bidding for HotJobs, the No. 2 online job site, clearing the way for Yahoo's $436 million offer.
TMP had hoped to use the HotJobs merger to delve deeper into the market for government and education job listings and to expand the number of corporations to which it could sell its products, which include recruitment tools, marketing programs and online yellow pages.
All three companies are all vying for the lion's share of the market for online job recruiting, which Forrester Research (Nasdaq: FORR) has estimated could be worth $9 billion worldwide by 2005.