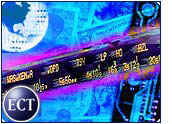 Internet brokerage E*Trade (NYSE: ET) said late Wednesday that it plans to buy market maker Dempsey & Company for US$173.5 million in cash and stock, and that it will consolidate its existing operations in order to diversify its revenue sources and cut costs.
The restructuring, which E*Trade described as the "next phase" of its ongoing diversification plan, will result in a charge of $220 million to $245 million in the current quarter, E*Trade said.
However, E*Trade said that the move is designed to generate pretax savings of $60 to $70 million per year, and the current quarter's charge is "largely non-cash."
"The acquisition of Dempsey will increase the overall profitability of our global trading platform despite current market trends, and allow us to gain a solid, strategic foothold within the specialist industry at a value-added price," said E*Trade chairman and chief executive officer Christos Cotsakos.
Revenue Booster
E*Trade, based in Menlo Park, California, said it will pay $20 million in cash and $153.5 million in stock to buy Dempsey, a market-making and specialist firm on the Chicago Stock Exchange that deals in listed and over-the-counter shares traded wholesale.
The acquisition will add about $20 million to revenue and about a penny to earnings per share in the fourth quarter, E*Trade said.
In 2002, E*Trade predicted, Dempsey should generate $100 million to $110 million in revenue and 5 to 7 cents per share in earnings.
Beyond Stock
E*Trade, which has been expanding its services while a slumping stock markettakes a toll on trading revenue, said the acquisition will allow it toincrease its financial services offerings.
"By leveraging one of our mostsignificant assets, order flow, in a cost-effective manner, E*Trade has theability to increase revenues and grow profitability," Cotsakos said.
Dempsey has recorded losses for only 13 of the more than 400 trading days sofar this year, according to E*Trade.
On the Move
Meanwhile, E*Trade also said Wednesday that it will move its San Francisco operations toexisting offices in Menlo Park and Rancho Cordova, California, with somefunctions going to a new facility it plans to open in San Francisco.
Offices in Alpharetta, Georgia, the United Kingdom and the Nordic countries willalso be consolidated within each of those regions, and the Portland, Oregon, E*Trade Access operationswill be combined with operations in Arlington, Virginia.
According to an E*Trade media contact, who asked not to be quoted, the moves are facility consolidations only and do not involve job cuts.