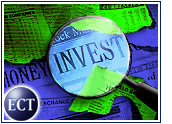 Sifting through the stock market wreckage in search of wireless gems has not been a fruitful pursuit in recent weeks. For the most part, experts say, companies in the sector — especially wireless service carriers — will need to undergo drastic shifts before wireless stocks again become "must-haves" in investor portfolios.
Even before stocks fell in recent weeks amid concerns about accounting scandals and world tensions, wireless stocks were among the market's major underperformers in 2002. The pain has been felt not only by carriers, but also by device makers and infrastructure technology providers.
"They've all gotten beat up," Morningstar stock analyst Todd Bernier told the E-Commerce Times.
Weak Industry
For the most part, wireless woes continue to be exacerbated by infrastructure buildouts that have yet to pay off, as well as slower-than-expected demand in the United States for data and other specialized services.
"It's a weak industry and a very shaky industry right now." Bernier said. "When you have major debt combined with falling profits, it's not a good mix."
Point of Light
One of the few bright spots has been Alltel, although Bernier pointed out that this service provider also has a strong presence in areas outside wireless, including wired telecom, financial services and phone directory publishing.
The Little Rock, Arkansas-based company has not yet announced its second-quarter numbers, but in April it reported that first-quarter earnings were 20 percent higher and cash flow was 3 percent higher than in the same period in 2001.
Alltel said its wireless business added 80,250 net new customers during the first quarter, and its churn rate — reflecting customer turnover — declined fromthe first quarter of 2001.
Compared with most carriers that have a wireless presence, Alltel's stock has beenrelatively unscathed during the past six months. Its shares closed at US$62.51 on January 2nd and at $45.83 on July 1st.
Carriers Reeling
For most large wireless carriers, however, the market has not been so kind. For example, AT&T Wireless saw its stock price fall from $14.44 on January 2nd to $5.60 on July 1st. Sprint PCS shares declined from $24.75 to $4.73 during that time, and Nextel's stock went from $11.35 to $2.96.
Before wireless stocks again become attractive to investors, Bernier said, major consolidation must occur among carriers.
With so many players competing for business, pricing has remained too low for any of the national carriers to make a profit. Bernier said that consolidation, expected to begin later this year, should give companies more flexibility in the future to raise prices, improve cash flow and obtain better debt ratings from the financial community.
Major Players
Bernier noted that the current field of six major U.S. carriers — Verizon Wireless, Cingular Wireless, AT&T Wireless, Sprint PCS, Nextel and VoiceStream — will have to be reduced to three or four players before the sector can become profitable and see stock prices recover.
In terms of mergers that could take place, he said a possible candidate is Cingular, which might move to acquire AT&T Wireless or VoiceStream. Another possibility is that Sprint PCS could buy out some of its regional affiliates.
Growth Prospects
For now, analysts at US Bancorp Piper Jaffray pointed to some wireless players with prospects for at least short-term growth, despite recent volatility in the sector.
One of those companies is handset technology provider Qualcomm. Analysts Samuel May, Erik Hellman and Paul Boruta said they believe Qualcomm is well positioned going forward, due in part to smooth transitioning from second-generation (2G) to 2.5G products. In addition, the company's open source applications are gaining ground in Asian markets.
"We continue to believe that Qualcomm is one of the best-positioned long-term plays in the wireless industry," the US Bancorp analysts said in a recent brief sent to the E-Commerce Times.
Potential Outperformers
The analysts also believe Motorola will outperform its market segment in the short term and is well positioned for a recovery, with its handsets "clearly the company's crown jewel."
US Bancorp also maintained that Nokia, which is trading at four-year lows, remains undervalued and will "come close to maintaining" its market share, with its stock outperforming its market segment, at least in the short term.
Rocky Times
Among wireless phone handset makers, Motorola has managed to limit damage from the overall market during the past six months. Its stock stood at $15.54 on January 2nd and at $14.30 on July 1st. Handset giant Nokia's stock price was buffeted more, going from $25.57 to $13.86 in the same period.
Other device makers remain stuck in the stock market malaise. Among PDA (personal digital assistant) players, Palm saw its stock go from $4.18 on January 2nd to $1.65 on July 1st, and Handspring went from $6.47 to $2.14.
The stock of Research In Motion, maker of BlackBerry handhelds for e-mail access, started the year at $24.50 and stood at $10.79 on July 1st.