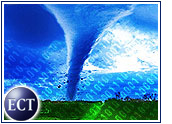 When IBM warns, the tech sector listens. The technology giant on Monday said it expectsfirst-quarter revenue and profit will fall short ofanalysts' estimates. The announcement was Big Blue's first earnings warning in more than a decade.
The warning sent IBM's stock down 10.1 percent to$87.41 and dragged some other tech stocks down withit. In early trading Tuesday, IBM shares had edged up to$88.17.
The company said first-quarter profits will be betweenUS$1.65 billion and $1.75 billion, or 66 cents to 70cents per share, while revenue will total $18.4 billion to$18.6 billion. Analysts polled by First Call/ThomsonFinancial had been expecting earnings of 85 cents pershare and revenue of $19.65 billion.
Slow Tech Spending
The warning sent a signal that companies are stillreluctant to invest in technology products and services. "We saw acontinued slowdown in customer buying decisions in thefirst quarter," IBM chief financial officer John Joyce said.
Joyce noted that the business environment has been "verytough" and that the first quarter is usually theweakest one of the year for technology purchases.
In fact, a recentstudy by Forrester Research found that most large companies plan to curb tech spending in 2002, though areturn to double-digit growth is forecast for 2003.
According tothe Forrester report, tech spending by large companieswill drop 14 percent this year.
IBM, which reports first-quarter earnings on April17th, saw revenue for its technology group — whichsupplies parts to many large tech companies — decline35 percent in the quarter. The company said it expects to report a pretax loss of $200 million in the quarter for thedivision.
New Safe Haven
IBM has long been considered one of the safesttechnology companies in which to invest, but that maybe changing. Even as confidence in blue-chip tech stocks wavers, some analysts remain confident that tope-commerce firms are relatively safe investments.
Yahoo!, which will report earnings after market closeApril 10th, will be the first Internet company toreport first-quarter financial results, and LehmanBrothers analyst Holly Becker said she expects a strong performance.
Goldman Sachs analyst Anthony Noto is also optimisticand said Yahoo's positive results could serve as a"sector catalyst, attracting other investors to lookfor Internet names that can deliver strong quarterlyresults."
E-Commerce Growth Forecast
Noto said he sees general growth in the e-commerce sector inthe first quarter, and added that he expects eBay,1-800-Flowers, Amazon, Expedia andpay-for-performance Internet search firm Overtureto do particularly well. AOL remains a top pick, too, he noted.
"The e-commerce sector is benefiting from an improvingeconomy and continued adoption by consumers," Notosaid, adding that it will continue to do well in 2003 asonline shopping becomes even more popular.